Secret Reporters
Following the recent outcry over the outrageous tax levied on the purchase of general electronics in the Akwa Ibom State capital, Uyo, the Executive Chairman of Uyo Local Government Council, Dr. Uwemedimo Udo, has quickly issued a statement defending the actions of the council seen by the general public as daylight extortion.
According to Dr. Udo, the licensing of general electronics in the state capital is a legitimate tax of the local government backed by the fourth schedule of the 1999 Constitution of the Federal Republic of Nigeria, Section 1 (b), as amended.
He also added that the N1,000 tax imposed by the council using its revenue consultant, Patcy Resources Limited, was in line with the Uyo Local Government bye-law 2021 Part XV(5), which clearly authorizes such taxes.
However, after due consideration and effects of the present economic situation in the country, Dr. Udo decided in his capacity as the chairman to immediately suspend the tax until further notice.
The outrageous license by the extortion experts we learned, was imposed on consumers who purchase electronic devices like Television, Radio, Computers, Phones, and Generators.
Items such as Air conditioners, Fridges, Bicycles, Trucks, Carts, Wheelbarrows were also included with a note that "any property with model or serial number on it is subject to licensing in Uyo Local Government Area."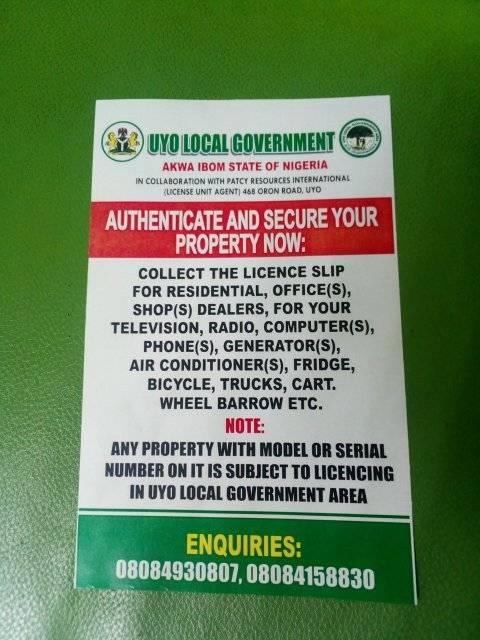 Sources further disclosed that the license which contains fifty (50) pieces per booklet amounting to N50,000 (Fifty Thousand Naira), has since been distributed to some shop owners around the ever-busy Plaza with most shops mandated to bear the cost of the license whether they sell a product or not.