Secret Reporters
Following the loss of the candidate of the Peoples Democratic Party (PDP) Prof. Kolapo Olusola Eleka to Kayode Fayemi of the All Progressive Congress (APC), SecretReporters can authoritatively report that the outgoing Governor, Ayodele Fayose will be leaving the country tonight.
His First Class flight ticket which was sighted by our reporter revealed that he will be onboard Air France and will leave through Gate 12 at the airport, with seat number 26B on board the plane.
His PNR for the flight to Paris tonight is AAC2767 with departure time as 23:10. We gathered from reliable sources that the ticket was secretly procured last night as soon as he sensed defeat. The idea of jetting out of the country was allegedly sold to him by Mr Emmanuel Udom, the Governor of Akwa Ibom State, who was with him throughout the eve of the election till Sunday, after the announcement was made. Our source disclosed that he will seek for political asylum in France, which will be granted him. till Mr Muhammadu Buhari leaves office.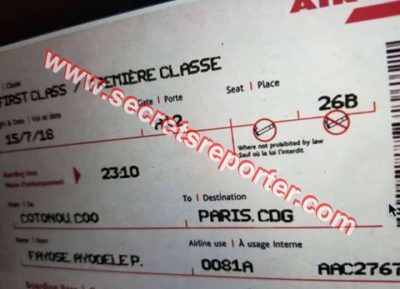 Meanwhile the Economic and Financial Crimes Commission (EFCC) in a partisan tweet and open display of being an attack dog to the President rejoiced over the loss.
In the tweet, the obviously bias anti graft agencies stated that with Fayose immunity over, they will descend on him and open up the probe of Integrated Poultry Project/Biological Concepts Limited awarded for N1.3 billion. The tweet has seen Nigerians lambasting the agency for openly displaying a partisan attitude towards the election, calling on the immediate sack of the twitter handler.