Secret Reporters
The anti-corruption and transparency unit of the Nigerian Football Federation has been put in the mud, as the chairman of the unit, Okey Obi, was fraudulently awarded a contract by the Anambra state government, a clear breach of the Code of Conduct Bureau for Public office holders.
According to the Code of Conduct for Public Officers, it is prohibited for an officer who is employed on a full-time basis to be involved in the management or operation of any private business, profession, or trade, except in cases where they are not employed. However, the code allows public officers to engage in farming or participate in the management or running of a farm, despite the above prohibition.
An investigation by SecretReporters revealed that the Anambra state government, through its Ministry of Power and Water Resources, awarded a contract worth N2, 962,969 to Century Twenty-two International Limited for the rehabilitation/refurbishing of the "HC & PS offices."
The contract was awarded on 20th May 2022 and was completed on 24th June 2022.

SecretReporters gathered that the company, Century Twenty-two International Limited, incorporated in Wuse, Abuja, with registration number 474893, was registered on 14th March 2003. The company has seven key management personnel, among whom is Okey Obi, the Chairman of, the Anti-Corruption & Transparency Unit, Nigerian Football Federation.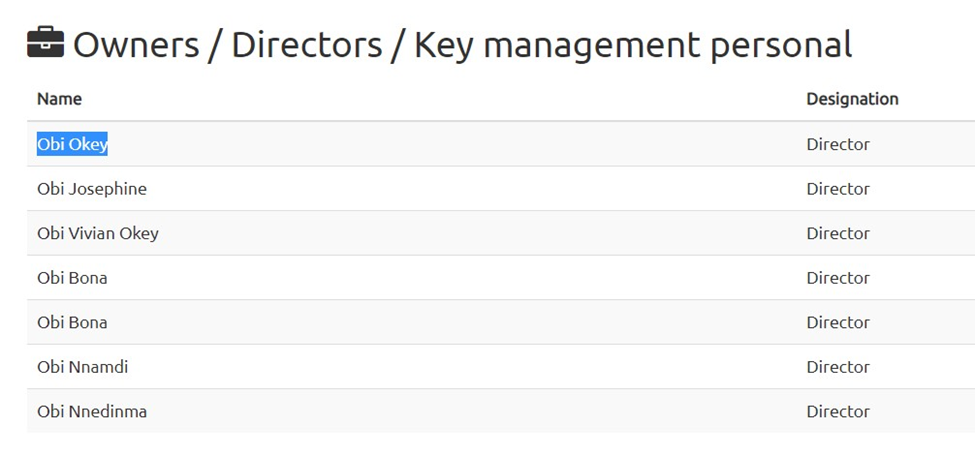 The award of a contract to Okey Obi by the government of Anambra state constitutes a violation of section 9 of the code of conduct for public officers involved with procurement. This section states that a public officer must not participate in a procurement process if any of the bidders or service providers involved in the process are related to them by blood, marriage, or grant relationship, or if the success of a particular bidder or service provider in the process would confer a pecuniary or other advantage on the public officer.