Secret Reporters
A Diamond is priceless without stain. It's an ornament treasured without any iota of blemish. It radiates excellence, hope, and truth in the face of persecution. It's the ultimate among the natural minerals. Whoever bears the name must possess all the qualities.
With Diamond Bank Plc. bearing the name and expectations that they will live up to its narrative, recent revelations found out by this online newspaper shows that they have desecrated it on the altar of greed, with the Managing Director, Dozie Uzoma leading this charade of shame.
There is nothing in the world more shameful than establishing one's self on lies and fables.  Worse is when a financial institution saddled with the responsibility of safeguarding investors and customers fund refuse to openly admit they erred but rather choose to shamelessly lie about not just sacking 393 workers whom they tricked to write a resignation letter but also on how they treat their workers as slaves, all in a bid to save a corporate image that is worn out and smells of rot. Evidences of these are in the possession of SecretReporters.
Despite the denial issued by Diamond Bank and sent to media house which includes us, by their public relations agent, Prize Communication, SecretReporters STANDS by its earlier publications that the vicious Bank sacked the 393 workers and is yet to pay them their full benefits as against their claim that the workers retired voluntarily and were fully paid. We challenge them to dispute the facts we have presented.
Evidence obtained by our reporter from one of the sacked workers revealed that on the 27th of May 2016 at about 06:26, they received an email signed by Gabriel Nwokeafor, Head, Human Capital Management, bearing the mail address HCM@diamondbank.com with the subject of the mail reading "TERMINATION OF EMPLOYMENT". In a bid to deprive the workers of their benefits, Diamond Bank subsequently deceived the workers to send in a letter of resignation after realizing their mistakes in labor law, the sacked workers complied, unaware that they have been tricked. We have it in documented evidences that the workers later sent in their resignation letters hours after the initial sack letters were sent. Below is the email sent.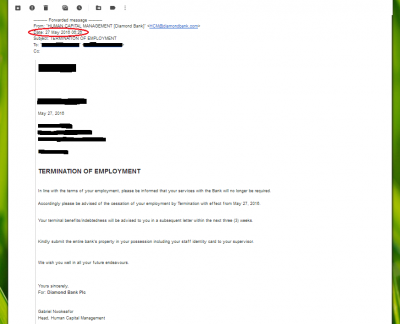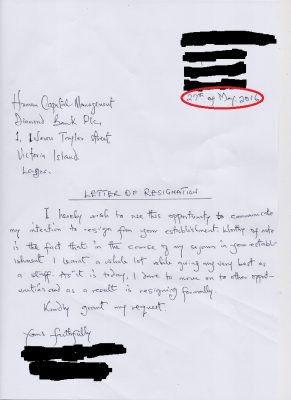 Even without the above evidence, it sounds absurd that 393 workers in a financial institution like Diamond Bank would wake up and voluntarily decide to forfeit their monthly salary, benefits, house loans, car loans and other enticements just to please the bank. Were the 393 staffs promised a better and juicy job? Did they belong to a union? Where they coerced or was voodoo used on them. These and many other questions beg to be answered as even an illiterate will sense fowl play from the butchered and cooked up story peddled by the shameless godawful bank which has resorted to playing hide and seek after the National Assembly waded into the matter.