Secret Reporters
There is a saying that for corruption to thrive in a country, civil servants who make up a nation's workforce, must have a hand in it. This is the case of Ellah Cornelius, who is not only frolicking with corruption but at the forefront of corrupt practices common with civil servants in the country.
The Code of Conduct for Public Officers states that "except where he is not employed on a full‐time basis, engage or participate in the management or running of any private business, profession or trade; but nothing in this paragraph shall prevent a public officer from engaging in farming or participating in the management or running of any farm".
Data gathered by SecretReporters, from Cross River State Public Procurement Portal revealed that the state Rural Water Supply & Sanitation Agency awarded a contract to the sum of N6,998,332.62, to RYTE REAZONS LTD For the drilling/rehabilitation at Bedia, Ukwel Obudu-Obudu L.G.A, on the 20th of January 2022. The contract commenced on the 23 of January 2022 and was executed within 6 months.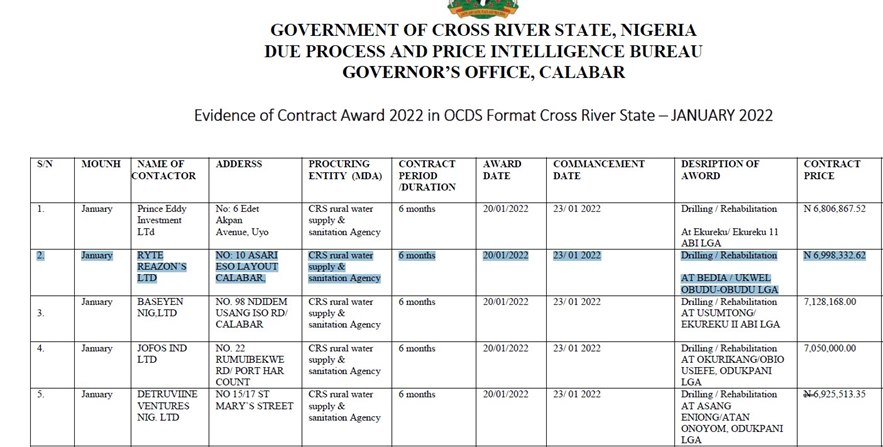 Further investigation showed that one of RYTE REAZONS LTD's key management personnel is Mr. Ellah Cornelius, Mass Communication Head of Department, University of Cross River State. Mr. Ellah Cornelius is a serving director of the company and also a government staff with the University of Cross River State.

RYTE REAZONS LTD registered with Corporate Affairs Commission (CAC) on 2nd August 2010, has not been filing its financial report as the company's status on CAC is currently inactive.