Secret Reporters
In January 2018, online retail shoppers on twitters were bewildered after a certain Twitter account, made claims about PayPorte, one of the most popular e-Commerce Companies in Nigeria owing months of salaries. However this claim was swept under the carpet, as many Nigerians felt it was just a rumour owing to the fact that there was no identity to the person and the account, but in a recent development aggrieved employees of the company have taken the bull by the horn to bring to light fiendish activities supporting the January tweet that past and present employees of the purported No1 Nigerian's preferred online retail store are owed salaries in months, with workers' pension and company tax not remitted in years.
Investigation by Secret Reporters revealed that for months, employees of PayPorte have been working without pay, requests for salary advance from salaries owed are being ignored by the company, most employees who are unable to come to work due to lack of funds are fired and still denied payment and worst of it is that salaries have not been paid since November 2017. The same callous scenario is also in place with regards to Staff Pension, as 8% employee contribution is being deducted monthly but not remitted by the company, same for the employer's statutory 10% pension contribution, making it a total of 18% pension contribution as stated in the Pension Act, which has not been remitted for more than 2 years, same with tax. Secret Reporters also learnt that the staff in their numbers has sent emails and made requests for their payment but the pitiless company has frigidly refused to respond and pay the employees their dues.
"We have been quiet for too long while we watch as management spends frivolously. They engage in activities to promote the image of the company, sign celebrities as ambassadors, host and pay student ambassadors, they are also sponsoring a reality TV show, #BBNaija worth over 350,000,000 Naira, AY Live, Nigeria Football Federation. Yet some say how's that our business? It is our business when we are being owed for 4 months and expected to come to work while certain staff enjoy special privileges. It is our right to demand for what is ours. Our loyalty and patience is being taken for granted and we will not be silent anymore." lamented one of the employees who choose to speak on condition of anonymity.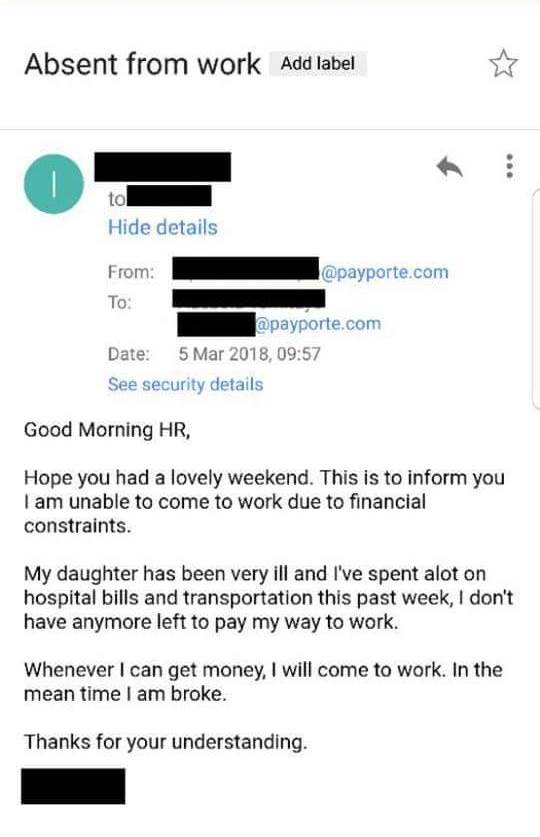 Another employee of the company who has worked for more than two years with the operations department where sometimes they close by 9pm also revealed how PayPorte intimidate and treat their employees as crap with no money paid for overtime while the MD Mr. Eyo Bassey spends frivolously and gallivant round the country with ladies.
It is quite disheartening when all these spending are going on during the same period when employees were sending requests for their salary so they can pay for school fees for their children, pay for rent, and cater for their families with all the mails left unanswered.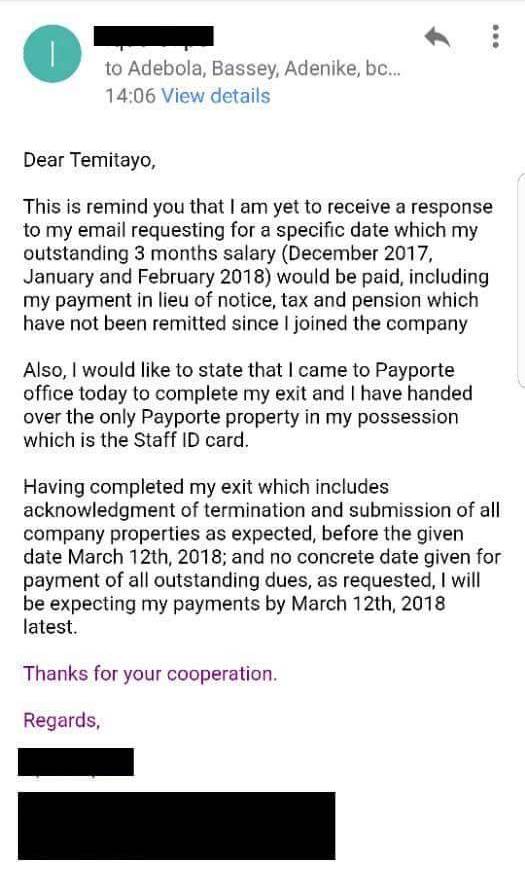 The aggrieved employees hereby call the attention of the Nigerian Labour Congress, Media and general public to the injustice and inhumane treatment going on at PAYPORTE GLOBAL SYSYEMS, owned by Eyo Bassey Francis, official sponsors of the Big Brother Naija show, and also implore FIRS and PENCOM to immediately swing into action and bring PayPorte to book as they have laboured for PAYPORTE and deserve their wages.