Secret Reporters
Mr Charles Dokubo, born in Abonnema, Akuku Toru Local government of Rivers state with his level of education has allegedly turned the amnesty Program which he heads into a personal company as information on our news desk revealed that about 10 months ago, Mr Dokubo in his usual style of syphoning money using the award of contracts from the amnesty program awarded a jaw-dropping amount of N1.6 billion for the empowerment of 400 women in coastal fishing.
According to the document with reference number PRO/SAP&CAP/IRSL/2018/1848/C.2148, the contract was awarded on the 29th of November 2018 in the sum of N4,000,000.00 (Four Million Naira) per delegate to a Delta State-based company Innotek Royal Service Limited chaired by Evangelist Samson Fetimi (JP) who surprisingly was also the Chief Executive Officer of Glassfa Intercontinental Limited, a company which also acted as a vendor to the amnesty program back in 2016 when Brig-Gen. Paul Boroh (Rtd) was in charge as sources within the commission alleged that the company may be used as a front to fleece money from the Amnesty account.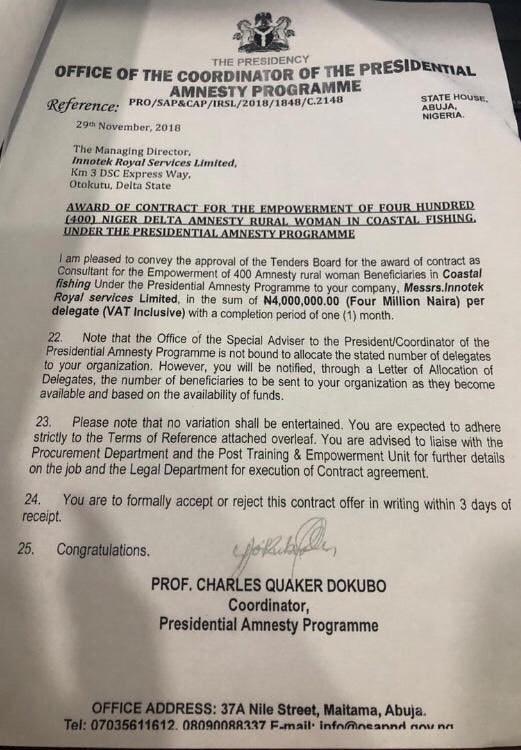 This comes as no surprise as in another letter dated 8 January 2019 the conduit-pipe company, in turn, requested for a 15% mobilization payment of the award sum amounting to N240,000,000.00 (Two Hundred and Forty Million Naira).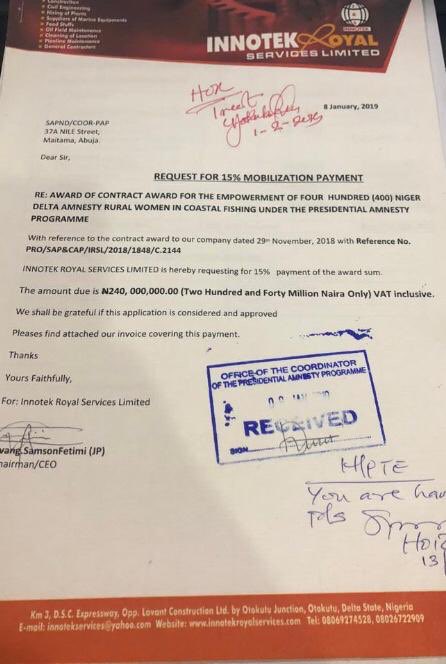 Interestingly, on Tuesday September 24, 2019 during the flag-off ceremony of the first batch of 100 recipients among 400 rural women to be empowered, canoes alongside items which allegedly included Yamaha 8 outboard engines, fishing nets, fishing hooks, life jacket, life rings, and fire buckets were distributed to the 100 women with a clear cloud of doubt lingering over the purchase of such items at N4,000,000.00 (Four Million Naira) per delegate.
A wooden canoe investigation revealed is sold between N200,000 to N230,000 with the prices for the other fishing and safety equipment below N300,000.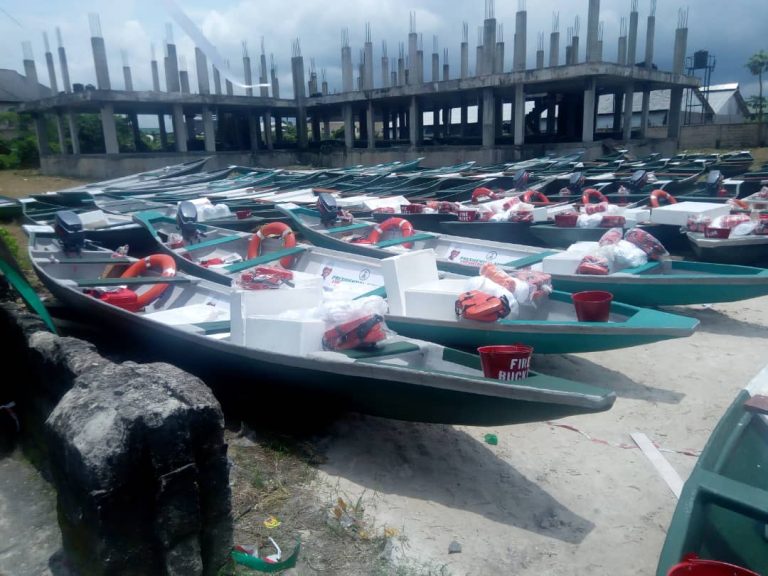 With the level of looting and corruption perpetrated by Mr Charles Dokubo using the Presidential Amnesty office unparalleled, there are calls from many Nigerians for the various anti-graft agencies to quickly swing into action and bring him to book.