Secret Reporters
Workers in Nigerian Government-administered Nigerian Television Authority (NTA) have decried a recent ban prohibiting them from expressing political opinions on social networking sites.
Under a new order contained in a circular issued on Monday 15th January 2018 and obtained by Secret Reporters, the NTA Director General, Mr Yakubu Mohammed mandated the Zonal Directors, Rector TV college, General Managers, Officers-in-charge, and Community Stations to instruct staff in their stations to henceforth desist from making or engaging in any publication on social media as recent activities regarding such has been deemed to be prejudicial to the government of the day by the Board of Management.
Secret Reporters also learnt that the African Largest Television Network with its large workforce spreading across the states of the country, were also warned against taking part in political discussions or criticising the government's policies and it's even a taboo to 'like' any post that criticizes the Federal Government. The ban we gathered from some NTA staff will mean workers submitting their passwords of social media networks to the authority for routine check of their posts.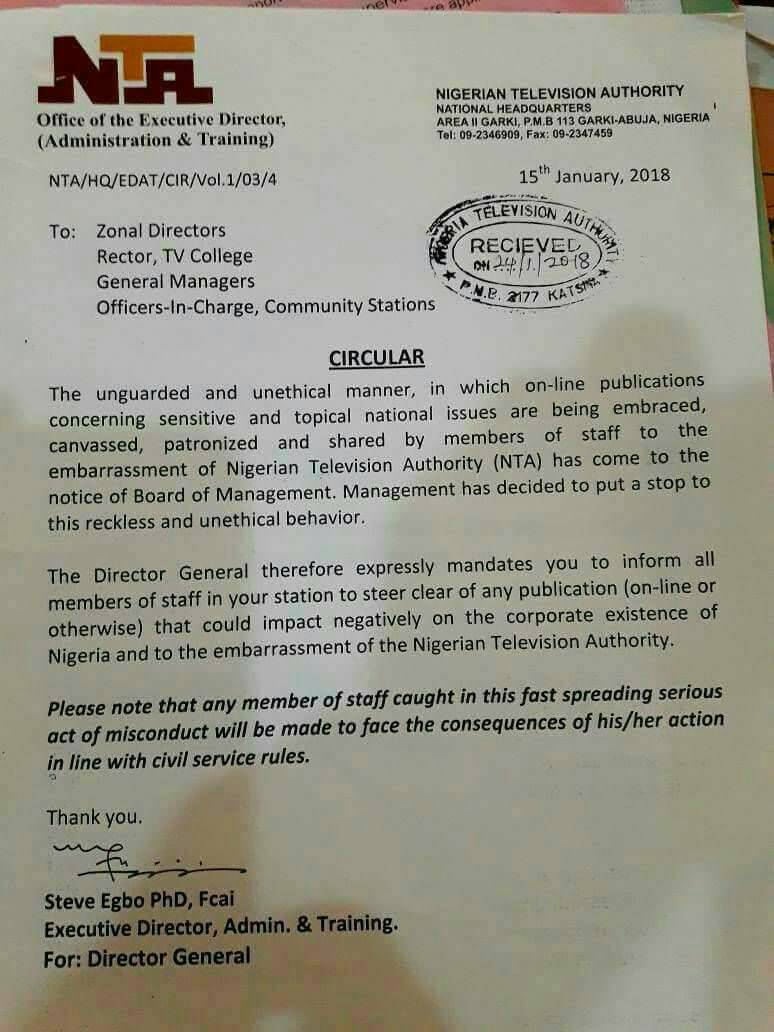 "Please note that any member of staff caught in this fast spreading serious act of misconduct, will be made to face the consequences of his/her action in line with civil service rules." – The circular reads.
Violators of the order risk being hit by a number of legal punishments, including early retirement, demotion, disciplinary action, and even termination of service.
A staff of the Nigerian Television Authority (NTA) who claims anonymity confided in our reporter about what he termed as an "attack on freedom of expression" and demanded an urgent action by the National Assembly to address the clampdown.
"This is suppressing the voices, it means even if we have problems and issues about the government of the day, we cannot speak about them," he said, adding that the order is against their fundamental rights both as NTA employees and citizens of the country.