Secrets Reporters
A scammer has emerged, exploiting the hopes and aspirations of admission seekers at the University of Port Harcourt, popularly known as 'Uniport.' Applicants have been receiving fraudulent emails that have raised concerns about the security of their personal information and the integrity of the university's admission process.
The alarm was first raised by a student who came across one of these deceitful emails and posted it on one of the students' social forums. The student, who goes by the Facebook name Dee Noelle, shared the fraudulent email with the message and issued a stern warning to applicants, urging them to exercise extreme caution.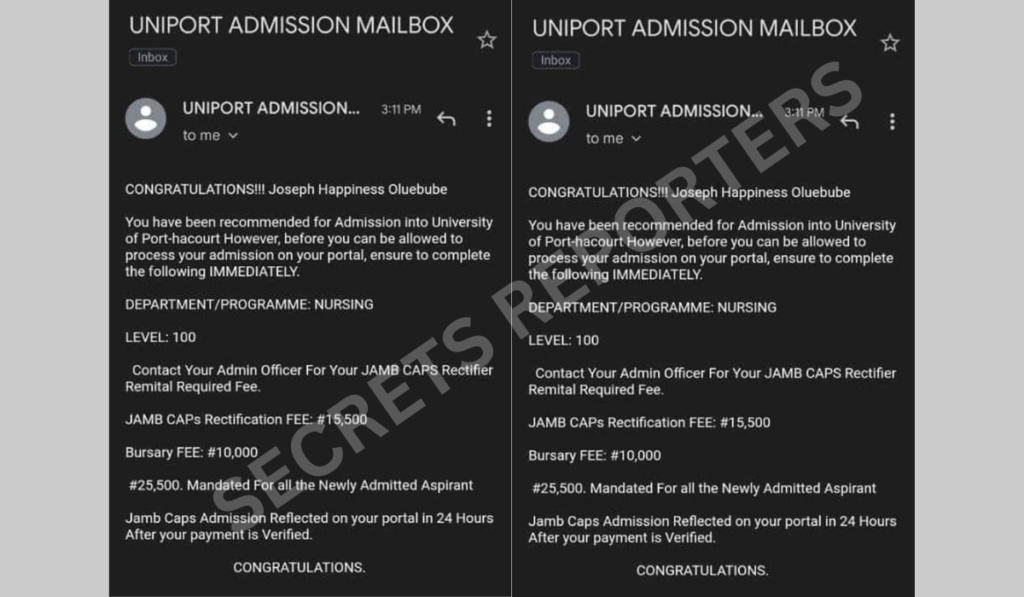 The cautionary post included valuable advice to help prospective students identify fraudulent emails and avoid falling victim to this malicious scheme. Among the key points highlighted by Dee Noelle are:
UNIPORT will never email, message, or call you to inform you of your admission. The university does not employ these methods to communicate admission decisions to applicants.
Acceptance of admission doesn't expire after 24 hours: Applicants are advised not to feel pressured into making hasty decisions, as acceptance of admission remains valid for a reasonable duration.
Accepting admission on JAMB CAPS is FREE: The process of accepting admission should not come with any financial obligation.
Dee Noelle went further to emphasize that any communication received via email, call, text message, or WhatsApp direct message from the "UNIPORT ADMISSION OFFICE" requesting payment to secure admission should be treated as a scam.
However, an unsettling aspect of this scam is the potential breach of applicants' personal information. Noelle suggested that scammers may have access to applicants' email addresses and phone numbers because they appear to be sourced from the university's Post-UTME (PUTME) database.
READ ALSO: Greedy Thief: How Nigerian Upstream Petroleum Regulatory Commission's Senior Economist, Sombiri Frank-Chukkas, Pocketed Over N500 Million Through Contract Racketeering
The situation becomes even more alarming when considering the possibility of an inside job. Suspected that the applicants' information might be accessible to someone within the institution, SecretsReporters attempted to contact the university but faced difficulties in reaching the school's administration.
The school's contact phone number remained unresponsive, and an email sent to the university received no response at the time of filing this report.