Secret Reporters
The supposed classification of individuals as lower and upper-class citizens based on social and financial status has again reared its huge head in recent events which have played out in Ikorodu, Lagos State involving so-called "powerful men" living in an Estate adjacent Monkey Village in Ikorodu, Lagos State.
Information gathered by SecretReporters reveal that the estate said to be the residence of various money bags in the State wittingly cut off the slum community located at the end of Agbaoku Street, off Opebi/Allen Road, Lagos from civilization with a gigantic fence for several days as they assumably could not bear sharing space with the poor.
Sources disclosed that the action was allegedly spearheaded by the Agboekum Landlord Association made up of bigwigs in the Nigerian social circle under the leadership of a retired Army General whose name we could not ascertain as at the time of filing this report. The general allegedly gave marching orders to his security details who were armed to the teeth to ensure that no interferes with the erection of the stone barricade which was put up on a simple excuse that residents from the slum usually wander around their Estate in search of water.
This callous cutoff of the community occupied by about 400 people living in about 80 houses as though under quarantine we learned comes after several failed attempts by residents of the nearby Estate comprising of former Ministers, captains of industries, politicians, renowned doctors amongst others to forcefully evict them from their homes in other to expand the Estate.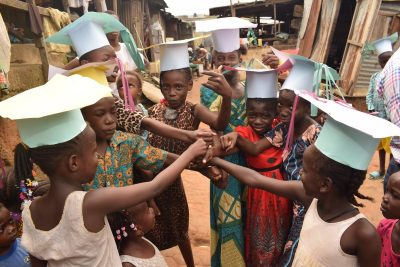 The completion of the fence which signalled a total cutoff of the slum community from its main access route has left children without access to schools while adults who decide to brazenly access civilization are subjected to the harsh conditions of climbing sloppy valleys, canals, and dangerous bushes before gaining access to the rest of the world.
A source also revealed that it has become a routine for occupants of the estate to directly and indirectly marginalize, oppress and grossly violate the rights of residents of the village as besides the erection of the gigantic fence which cut off their access road, they have also deprived them of other basic facilities constructed by the government in the area.
It would be recalled that Aisha Saleh aged 15, who was denied from representing Nigerian at the United Nations and Amnesty International children conference Geneva, Switzerland which held in November 2019 hails from Monkey Village. It was reported that Immigration officers refused to process her International passport as they could not believe her story despite having documented evidence backing it. They claimed she was about being trafficked as her image did not fit one of the affluent Nigerians who could afford to travel abroad let alone represent Nigeria on any platform.