Uneasy lies the head that wears the crown until the crown is removed.
In the past 8 years, General Muhammadu Buhari wore Nigeria's presidential crown. In that period, whenever any Nigerian collapsed under the country's ignoble cross, it was Buhari's name that they cursed for forcefully diverting their paths from their noble cause.
Data Dives from Dataphyte is a reader-supported publication. To receive new posts and support my work, consider becoming a free or paid subscriber.
As young and old farmers fled their homesteads to escape slaughter with the herds and other Nigerians sold all they had to escape the country's mental horrors, it was Buhari's name they bid farewell to as they departed.
Also, in the past 8 weeks, Governor Godwin Emefiele of the Central Bank was responsible for detaining people's bank cash savings. Humbled big men and proud beggars found themselves in queues pleading for cash inside or outside the banks.
Not anymore.
From now on, everyone will hold Bola Ahmed Tinubu for every problem Nigerians would have, for every trading loss or job loss, bad debt or wrongful death, at least for the next 48 months.
But, like his predecessors, he does not deserve praise for every progress, every profitable business or gainful job, or for every live birth or death in old age. Only the people deserve such recognition for the good, the governors deserve blame for the bad, and the President hanged for the ugly.
That is the weight of the crown that Tinubu, Atiku, Obi, and others longed to wear all their lives.
Unfortunately, Tinubu's head is now set to wear the heavy crown, regardless of the troubles ahead — no thanks to the people who voted him to the federal throne.
For instance, many supported the wreckless cashless policy overtly or covertly because they thought it might work against the APC and Tinubu's chances at the elections. Tinubu and many of his party friends complained that the policy was ill-timed.
Yet, whether he likes it or not, Tinubu is expected to undo the damage of over N21 trillion countable loss to the economy and other uncountable losses the people suffered while Emefiele flailed and failed on the Naira, hard done by his perennially ailing calls at the CBN.
An examination of one of Tinubu's recent speeches reveals the triple trouble on top of his subconscious mind – food insecurity, martial insecurity, and interethnic insecurities.
But before those three troubles, he must deal with at least 5 litigations challenging his victory at the February 25 Presidential polls.
If he scales that legal hurdle, he must then confront a 4-year-long moral battle to assert the legitimacy of his government nationally and internationally.
Legal actions ahead
The number of petitions so far against the conduct of the 2023 elections amounts to 505. These include 5 for the Presidential, 134 for Senatorial, and 366 for the House of Representatives.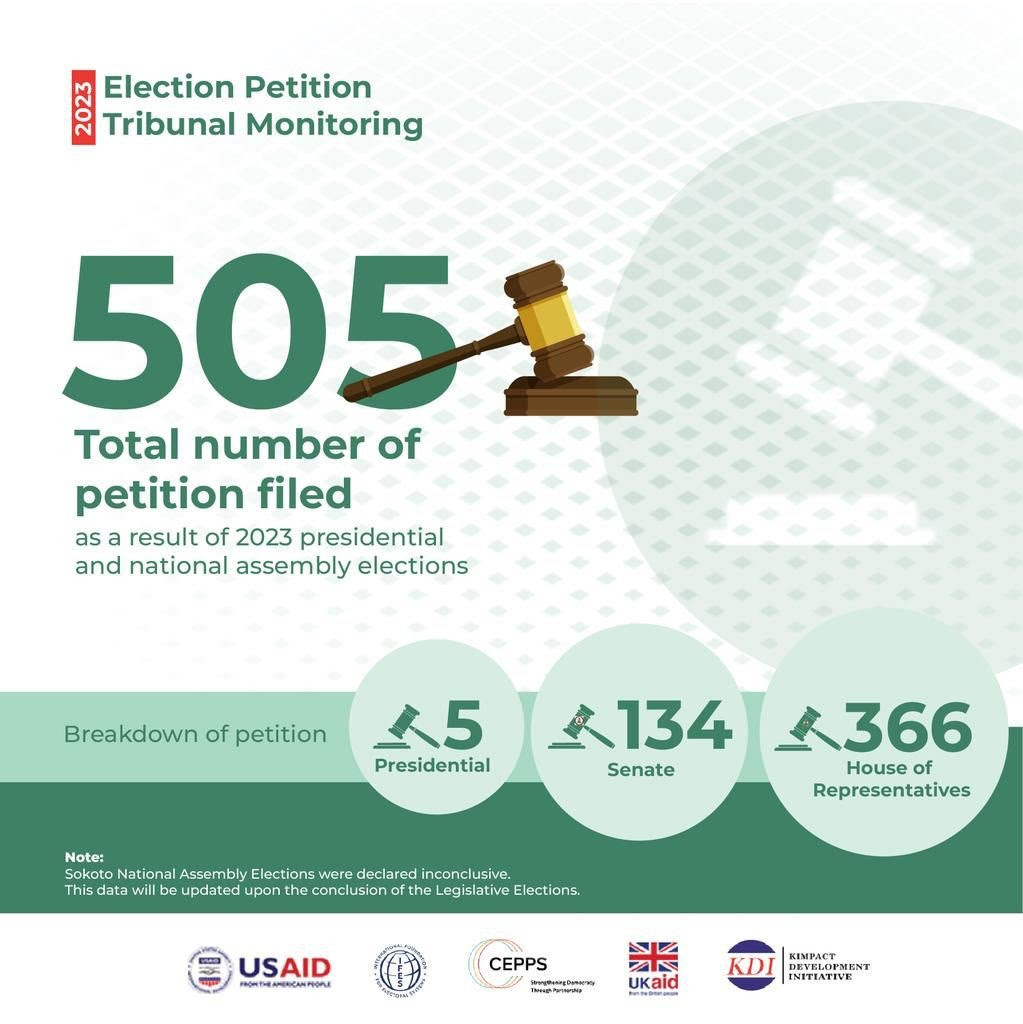 Source: Kimpact Development Initiative
Barring other litigation that may arise from States with inconclusive elections, the number of election petitions for this year may be the least in 4 successive elections.
There were 560 election petitions in 2003. This number increased drastically to 1,290 in 2007 but dropped to 732 in 2011. There was another decrease in election petitions to 611 in 2015. This number decreased further by 17.3% to 505 in 2023 (as of the time of writing). This percentage decrease was more than 16.5% in 2015.
Legacy
A manifesto is a candidate's desired legacy.
Ideally, it contains a candidate's pact with the people – what they intend to do and how they want to be remembered differently from the other parties or candidates.
However, often in Nigeria, incumbent political officeholders go clearly off the markings of their campaign manifesto. Thus, people no longer trust political manifestos.
Yet, one interesting thing about Tinubu's campaign speeches was that he spoke many times off the cuff and off the point. But the good thing about those slurred, sleepy slow-mo speeches was that they could be trusted more than the contrived manifestos. If he had evil intentions, he could have unknowingly let them out in those semi-conscious, sleep-deprived states he found himself on the campaign trail many times.
So, in a way, it's okay to measure Nigeria's President-elect based on what he said from his subconscious mind during his campaigns, even more than when he was conscious as a politician.
Tinubu's extemporaneous and extraneous mix of words revealed 3 troubles that were top of his subconscious mind: food insecurity, general insecurity, and interethnic insecurities.
Food Insecurity
"Corn, agabado, ewa, and yam in the afternoon…" Senator Tinubu, a senior citizen, obviously defying his need to recuperate fully after surgery, spoke on, struggling for coherence during his speech at the 12th Bola Tinubu Colloquium in Kano.
Sadly, the joke is on us, not on the septuagenarian.
Why? Nigeria ranks last globally, 113th among 113 countries, regarding food affordability, according to the Economist's Food Security Index for 2022.
Food security is measured in 4 main divisions: Affordability, Availability, Quality and Safety, and Sustainability and Adaptation.
The country's aggregate food security score is 42, among the bottom 6 countries globally. A score of 0 is the worst, while 100 is the best.
Source: The Economist Impact 2022
Several factors could be responsible for Nigeria's food insecurity. One is that, since the return to democracy in 1999 till 2020, the average population growth rate of 2.7% exceeded the food production growth rate of 2.6%.
The Economist observed, "While Nigeria's performance in most categories has improved over the 11-year (Global Food Security Index) GFSI reporting period, a decrease of -22.2 in its score in (food) Affordability has led to a decline of 0.9 points in its overall score in the index.
Source: The Economist Impact 2022
"Deteriorating (food) affordability scores have been driven by 1.1) Change in average food costs and 1.5) Food safety-net programmes, which saw major respective declines in scores of 49 and 53.7 points.
"Indicators that have seen improvement, albeit at low levels, include a 47.6-point increase in 3.2) Nutritional standards (due to the implementation of a national nutrition plan and nutrition labelling), a 44.1-point increase in 2.3) farm infrastructure, and a 33-point increase in 4.5) political commitment to adaptation.
President-Elect Bola Ahmed Tinubu may need consider the country's strengths and opportunities for action, as advised by the Economist:
"Nigeria's performance showcases its strengths in existing nutritional standards and micronutrient availability, highlighting strong nutritional value and safety of food.
"The country also does well to limit the volatility of agricultural production (as seen in the yearly fluctuations in the 'FOOD INSECURITY' Chart above). On the other hand, Nigeria's performance in the index highlights that there remain multiple areas for action to enhance the food security environment in the country.
"Making food more affordable is a top priority, given the weak index performance, and developing food safety-net programmes is an important task ahead. For the broader environment of food security, developing a food security policy and establishing a food security agency"
Why they often don't eat?
Beyond these general suggestions, Dataphyte notes that food insecurities emanate from general insecurities such as conflicts.
As such, lower food availability (low supply of farm produce) for a teeming population (with high demand for food) leads to weak food affordability (high prices of food).
Free datasets on Open Data Portal
This link between food insecurity (food crisis) and general insecurity (conflict situations) in Nigeria is clearly seen in the following sub-indices:
2.6) Poor Supply chain infrastructure with a score of 23.9 and a decline of -3.7 over the past 11 years.
2.7) Low Sufficiency of supply of farm produce with a score of 25.5, worsened by -5.8 points in the last 11-year period.
2.8) High Political and social barriers to access with a score of 31.6, which only improved by 5.7 points in the last 11 years.
2.9 Absolute absence of policy commitments to food security in the last 11 years.
In this regard, President-elect Tinubu already had his thinking cap on when he linked the country's food crisis to its conflict situation in his often-scorned speech.
"There is an endogenous relationship between conflict and severe food crisis. Not only do 60% of the world's hungry people live in countries experiencing conflict but also (the) prevalence of undernourishment in conflict-affected low- and middle-income countries are between 1.4 and 4.4% points higher on average as compared to countries in the same income category that are not affected by conflict.
"Directly, conflict may increase food expenditure, reduce diversification of the household diet, and decrease food security through conflict-associated acts, such as (the) occupation of farmlands, destruction of livestock, and theft of crops. Indirectly, conflict impacts food insecurity through various channels, such as disrupting agricultural production and affecting farmers' investment decisions", Tracy Kuo Lin and 7 others noted in their research.
It is left to see whether Mr Tinubu will walk the talk by instituting policy commitments towards food security early in his administration.
Thank you for reading Data Dives from Dataphyte. This post is public so feel free to share it.
To remove the country from the ignoble last position (113th of 113 measured countries) globally in food affordability, Tinubu is required to formulate policies that urgently reverse poor supply chain infrastructure, low sufficiency of farm produce, high political and social barriers to access, such as terrorism, banditry, and interethnic conflicts.
The next question is: How will Tinubu solve the root cause of unaffordable corn, agbado, ewa (beans), cassava, yam, or other vitamin-enriched foods? How will Tinubu end the conflict ravaging the country from north to south? How will Tinubu end martial, interreligious, and interethnic insecurities in the land?
That's Tinubu's to answer and act upon ultimately. But we will weigh these 2 other troubles next weekend and offer analysis and advice.
Till then, have a peaceful weekend, and please add some nutritious fruits and vegetables to Tinubu's off-the-cuff dietary recommendations.
See you next Saturday!
Source: Dataphyte