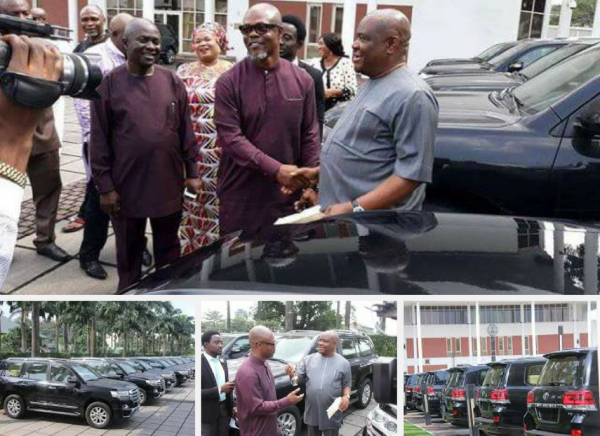 Secret Reporters
It is no problem getting an SUV car as gift to someone if you can afford it but it is a huge problem and concern when 1.6 billion naira is removed from government purse made for the public to buy SUV cars for federal law makers, to attain your own selfish and greedy desires.
Secret Reporters got news on the Governor of Rivers State, his Excellency Governor Wike who just bought brand new SUV cars for 16 federal law makers, which of course is a ways of bribing them and gaining his selfish desires.
Governor Wike forgot all the RSSDA (Rivers state sustainable development agency) scholars who are stranded in united kingdom as a result of the Rivers Government not paying their tuition as initially planned, Governor Wike has been saying there is no money in the treasury to fund their bill but there is 1.6 billion naira to buy SUV cars for people who didn't ask for it and have unused cars parked in their garage, and can afford any type by snapping their fingers. The CEO of RSSDA Larry Pepple resigned, Larry had to resign as a result of constant owing of salary by the governor.
Rivers State students in UK under the state scholarship may soon be sent home due to the governor's refusal to pay their fees. Wike had declared that anyone who studied arts like most are currently studying in UK is a complete dunce and can't waste money paying such fees.
Sources in the know told Secret Reporters that Wike's gesture of giving the vehicles even to opposition lawmakers is to spite his arch rival, Rotimi Amaechi and use it to score political point for 2019 election.