Jaafar Jaafar
While the hyperbolic lyrics of the legendary Sarkin Kotson Kano Abdulrahman's magnum opus – Sir Sanusi Sarkin Yaki Zakin Daga Na Abashe – turned the late Sir Sanusi's inborn hubris into believing that he was above his peers and superiors, his grandson chose to take inspiration from a tribe of cyber buskers cheering him to banishment.
Barely three years after his ascension to the Kano throne, the present emir of Kano, Muhammadu Sanusi II, has dumped a set of etiquettes laid down by Muhammad Al-Maghili during Emir Muhammadu Rumfa's reign in the 1480's to inspire awe and instil respect for leaders; demolished the century-old Soron Ingila built by Emir Abbas and used by colonialists shortly after Kano conquest in 1903 and; squandered at least N4billion bequeathed to him by Emir Ado Bayero in 2014.
Let me make it clear to people who think I was paid to write against Emir Sanusi that my conscience is the mainspring of my actions. For the sake of making a point, on Wednesday last week a notable personality who marvelled at my last article on Emir Sanusi sent me a 'gift' of N200,000. I declined to accept the gift in order to clear my conscience that I have NEVER collected money from anybody to write against the emir.
Well, I really do not bother about the effete challenge of a clan of Internet meerkats, tying to challenge an armadillo of a journalist. What I am more concerned about is setting the records straight with fairness but without fear or favour.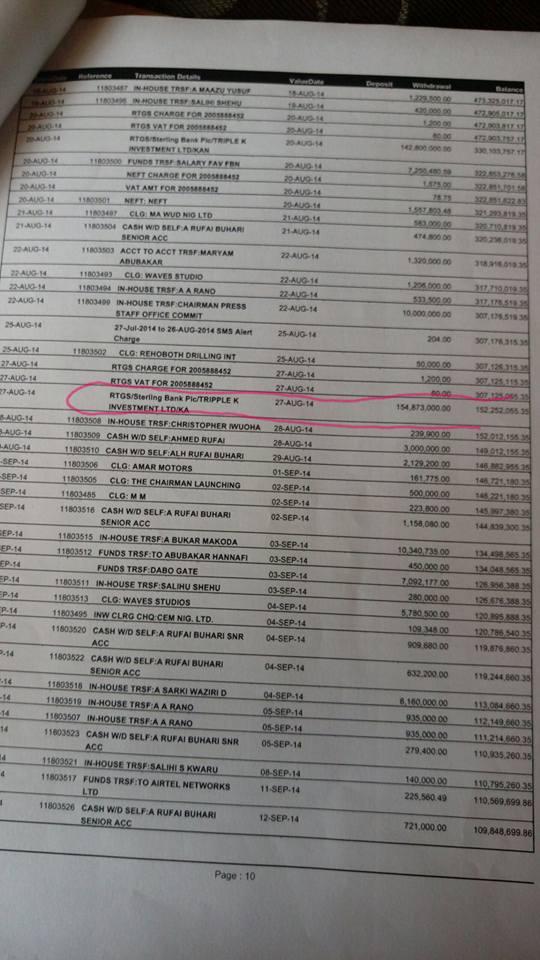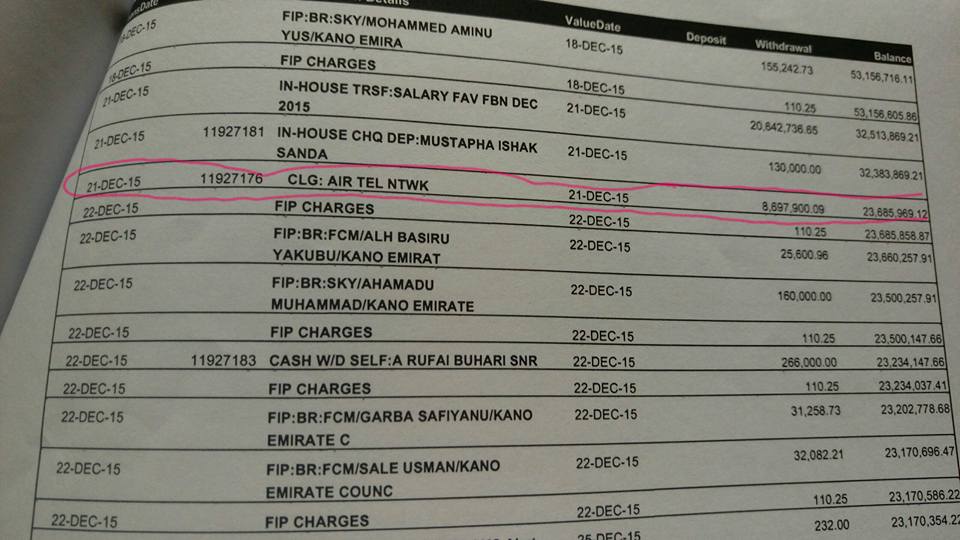 Money paid to Airtel by Sanusi Lamido Sanusi
There are certain traditions a traditional office holder is expected to adhere to. That is the reason it is called traditional institution. Traditional rulers are chief image-markers of their people, chief custodians of culture and traditions, ambassadors of their people, etc. But Emir Sanusi chose to drift from this tradition. I have never heard an Eze saying the Igbos are 419ers or drug-traffickers, nor heard an Oba denigrating the Yoruba people.
While I have my reservations about Ganduje's light rail project, Emir Sanusi's conclusion that tens of thousands of enterprising stall owners in Sabon Gari Market, industrious traders of Yankura, dutiful traders at 'Yan Lemo, resilient vendors of Kurmi, venturesome grain dealers of Dawanau, billionaire merchants of Singer and Kantin Kwari Markets are all there to attend "wedding and naming ceremony" is abusive. And I am being charitable.
Emir Sanusi's Financial Recklessness
About six weeks after becoming emir, Sanusi began the butchery of the emirate council's life-time savings in fixed deposits in First Bank, UBA, Zenith, FCMB, AfriBank, Access, etc.
On July 24, 2014, the sum of N400m fixed by his predecessor was first broken from First Bank to the transaction account of the emirate council at the same bank. Less than three weeks after, on August 13, 2014, another fixed deposit of N200m was recalled to the main account. The recall of the fixed deposits continued steadily until December 8, 2016 when about N4billion he inherited were drawn into the main/transaction account and mercilessly exterminated.
Following his visit to former President Goodluck Jonathan on July 24, 2014, and subsequent release of his travel documents by the SSS, the emir began criss-crossing the world. On August 1, 2014, Emir Sanusi approved the payment of N152,624,723 to a now sanctioned bureau de change operator, Dabo Gate Ideal. Twelve days after, on August 13, 2014, the same company was again paid N15,458,660. On December 10, 2014, Western Union Travels and Tours Limited, a travel agent to DELOITTE, was paid N6,993,203. Three weeks after, precisely on December 31, 2014, the same company was paid N5,566,235 from the emirate council account. Two weeks after, the company was again paid N9,071,000 from the emirate council account on January 14, 2015. This payment trend to Western Union Travel and Tours and Classic Air Service for chattered flights and foreign travels continues till date.
Contrary to reports that the emir's expensive cars were gift from friends, documents available to me show that on August 27, 2014, Nigeria's famous exotic car dealers, Triple K Investments, were paid N142,800,000 from the First Bank account of the emirate council for the supply of exotic cars. Still on August 27 and October 16, 2014, Emir Sanusi approved the payment of another N154,873,000 and N36,223,000 respectively to the same Triple K Investment for the supply of exotic cars. Again, the same company was paid N5,060,000 on December 17, 2014.
In my last article, I hinted that the emir spends a lot on Internet bills. Now to prove this assertion, here is the breakdown of his expenditure on calls and Internet. On June 29, 2015, Airtel was paid N2,639,185.19; on July 22, 2015 (N1,471,163.49); on August 31, 2015 (N4,954,883.61); on September 29, 2015 (N2,638,626.18); on November 9, 2015 (N1,012,077.36); on December 21, 2015 (N8,697,900.09); on March 11, 2016 (N3,640,356.14); on April 26, 2016 (N1,000,000); on August 22, 2016 (N3,000,000) on September 21 (N2,000,000); on December 19 (N5,000,000) and; on February 9, 2017 (N2,000,000).
I couldn't believe when I once heard the emir once spent N7m on Internet in ONE month! Now imagine this: The total amount the emir spent on Airtel from June 29, 2015 to February 9, 2017 is N37,054,192.06. This amount alone could build a modest school or a cottage hospital with equipment as a way of matching his words with action.
While the salary bill of the emirate was in average of N7million (usually defrayed by the interests accrued from over N4billion fixed deposits Emir Ado Bayero made), the emirate received a steady grant from local government deductions of N127,898,110.07 every quarter – about N42m monthly.
While he buffeted the savings on his expensive lifestyle, to be fair to him, he increased the salary to N17,078,441.56 in September 2014. The salary bill further ballooned under Sanusi to about N23m after the emir put his distant cousins, uncles and other relatives on salary.
When recession bit harder, grants decreased and balance in the account fell to as low as N800,000 at a point, the emir now slashed the salary to the status quo ante, but he never stopped lavish spending on foreign and local travels, Airtel data/calls, questionable NEFT transfer of about N12m monthly, cars, sartorially hyped up outlook, etc.
In monthly grants, the emirate council received between July 30, 2014 and March 1, 2017, the sum of N1,672,953,660. While the total debit from June 8, 2014 to April 11, 2017 is about N6 billion, the current balance in the account as at April 11, 2017 is N23,487,406.12.
For someone who is preaching the gospel of economic management, financial prudence, I wonder why he woefully failed set example in his tiny fief.
Let me, as obedient subject, once again remind my emir, a monarch who does not mind deposition on the alter speaking the "truth", that when certain Sanusi Lamido Sanusi escaped firing squad by whiskers and jailed for about two and half years under Abacha's Decree 2 in Sokoto Prisons for "inciting violence", his rights to both movements and free speech were trampled.
I hope somebody will take some lessons.