Secret Reporters
The Delta State Governor media may be tearing apart if the newly appointed overzealous Executive Assistant to Gov. Ifeanyi Okowa is not given a proper line of assignment.
Impeccable information available to this medium is that contrary to the EA claim that he has an academic PhD from a university; Secret Reporters maintains that Mr Fred Latimore's degree is fake, as he has never seen the four walls of the university to undergo a rigorous doctorate degree session.
Known for throwing big titles of academic qualification behind his name, this medium has uncovered Mr Latimore's penchant for lying that despite his claim of wearing a revered Doctorate Academic gown to her daughters Primary Six graduation was actually his quack induction into his circle of PhD friends.
Fact findings by Secret Reporters revealed that the PhD gowns are returned as soon as they are rented to graduands by the conferring university but Latimore will be the first in Nigeria history to keep his own gown at home to go for primary school graduation whenever he deems fit, which rightly confirms our report that he's not a product of a Nigerian or foreign University doctorate holder but given to him by a one Berkely group as a honorary form.
The usually hot blooded communication quack who has no certificate in journalism or communication from any tertiary institution in keeping with the policies of lying to hoodwink Deltans to use the Asaba death trap called Asaba International Airport instead of the safer Benin Airport maintained that there are flights operating from the glorified motor park Airport daily. Our reporter who was there on Saturday from 7am to 6pm filed in a report that not a single flight landed there today, puncturing Latimore's claim.
One of those who participated in building the tower publicly confirmed that it was built with substandard products and won't stand the test of time if the governor does not intervene quickly enough.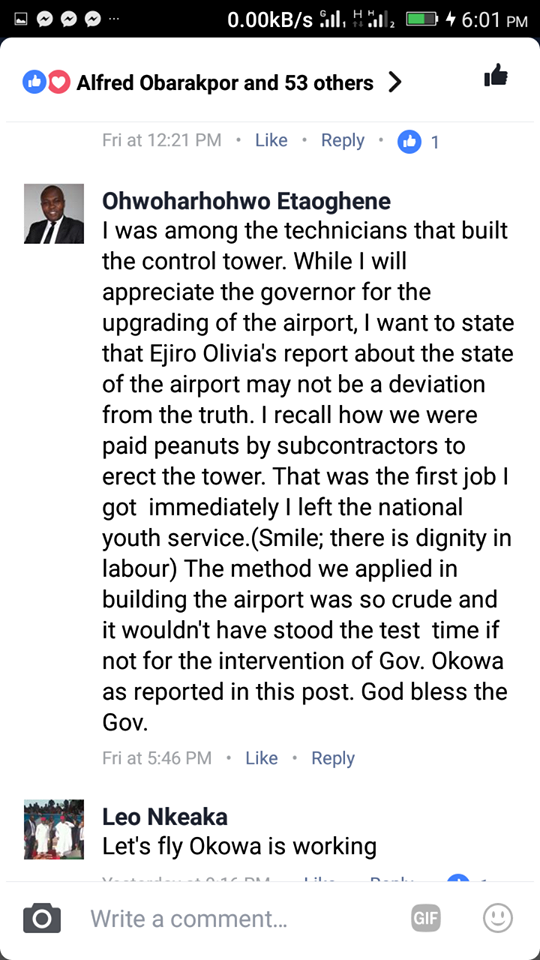 The Executive Assistant who's frustrated for his inability to pocket Secret Reporters despite his close friendship with one of the Publishers, Mr Fejiro Oliver is currently scheming to be made the next Commissioner for Information if Okowa is re-elected for a second term, even without prerequisite knowledge to head such sensitive position.
Various calls by him to this medium pleading for soft landing for non performing aides like himself and the corrupt ones has always met with deaf ears.