Secret Reporters
Located in Nigeria's North Central zone, Nasarawa State, despite being the country's largest producer of salt, has a poverty rate of 57.3 percent and sits comfortably in 12th position in the rank of poorest states in Nigeria, according to the Nigeria Bureau of Statistics.
In the face of this alarming figure, data from the Nasarawa State Open Procurement Portal have shown that the State Government under the leadership of Governor Abdullahi Sule, splashed N571, 144,500.00 to mark anniversaries that are unknown.
According to the State Open Procurement Portal, the Office of the Sec to the State Government awarded a contract of the above-mentioned amount to Centre Field Engineering Ltd for "Anniversaries/Celebrations".
The data revealed that the contract was signed on the 9th of October, 2021, just eight days after the State marked its 25th Anniversary.
With the details of the anniversaries and celebrations unknown, it raises eyebrows if the act was a deliberate move by the Governor Sule-led administration to loot state funds while most of its residents languish in poverty.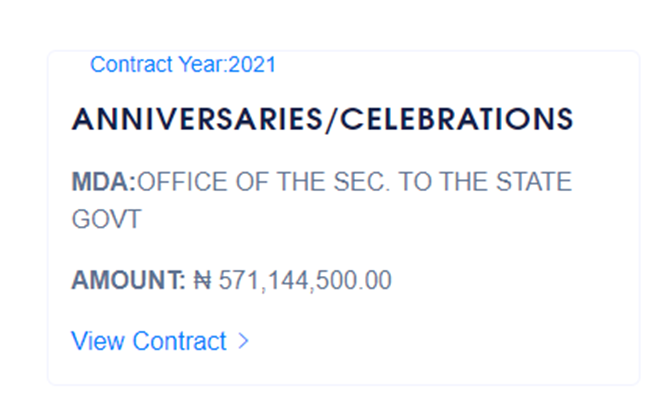 Meanwhile, findings revealed that Centre Field Engineering Ltd is not registered with the Corporate Affairs Commission. It is also unclear what connection an 'engineering company' has with organizing events for a state government.

The Open Procurement Law stipulates that to qualify for a state government contract, a contractor must provide a certificate of incorporation with the Corporate Affairs Commission (CAC).