Secret Reporters
Secret Reporters findings reveal that as the days draw near for the tenure of one of the most corrupt Rectors in Nigeria, Mrs Clara Sogbaike, elapses in the first week of March, 2017, lobbying by various persons in the State for the top job has heightened.
Amongst the top contenders for the job is Dr. Ighere Jacobs who we learnt is a principal lecturer in the school of applied sciences, Delta State Polytechnic Oghara, who is not qualified to contest and hold such position as the Rector of the institution.
Our findings shows that, for anyone to apply for the position of the Rector, such person must be a Chief Lecturer of not less than 5 years in the Polytechnic or a Senior lecturer in the University of not less than 5 years.
Dr. Ighere Jacobs has been penciled down as the only possible replacement that can cover up the unbeaten track record of fraud perpetrated by the embattled Clara Sogbaike and her accomplices who are presently the most sought-after fraud suspects by Nigeria's anti graft agencies.
Secret Reporters investigation revealed that the decision to singlehandedly select Dr. Ighere Jacobs as the replacement to Clara was reached in a secret meeting held on Thursday 19th and Friday 20th January, 2017 with some Chieftains from Oghara with Clara Sogbaike, Barr. Andy Asawota, who is the polytechnic's Council Chairman, in attendance.
We gathered from a very reliable source present at the meeting, that the only problem they have with Ighere's selection is that he is not qualified for the job. At that point, Clara became infuriated and reminded all her fraud accomplices especially the Registrar, Mr. Benson Omonode and the Bursar, Mr. Napoleon Akpubi who kicked against the selection of Dr.Jacobs Ighere to boss them, the implications, as they still have some years as Principal Officers in the Polytechnic.
We also gathered that, at this point, there was silence of acceptance to Clara's suggestions which she broke after about 10 seconds and said, " We have done it before, we can still do it again." With surprise in everyone's eyes, she continued; "the former Chief Internal Auditor, Helen Onodje was kicked out as Auditor with the active connivance of Council and Management when we noticed she refused to allow us 'take money' at our will and against not following due process."
"We facilitated Joseph Nana's promotion to a Chief Lecturer, even when he was not qualified, and appointed him the Deputy Rector to cover up our illicit activities from being exposed with the approval of Council. We also promoted Engr. Dickson Eghwatore as Director of Projects and backdated his appointment letter to cover our tracks of "taking money" without due process. So let us do it for Dr. Ighere Jacobs, and be saved from being exposed." Clara insisted, sources quoted her as saying.
We gathered that Ighere's secret selection scaled through with the following resolution:
1. Governing Council should promote Dr. Ighere Jacobs to a Chief Lecturer and backdate his promotion letter to 5years ago to qualify him to apply for the job of the Rector.
2. Dr. Ighere would make an undertaking to be loyal to them, the Council Members, and must be willing to release funds from the school treasury to back up Clara's case of fraud against her by the various anti-graft agencies.
Worried by this latest development, our Secret Reporters swung into action and our investigation and findings on Dr. Ighere Jacobs revealed that;
1. Dr. Ighere Jacob has a Ph.D in one of the Biological Sciences.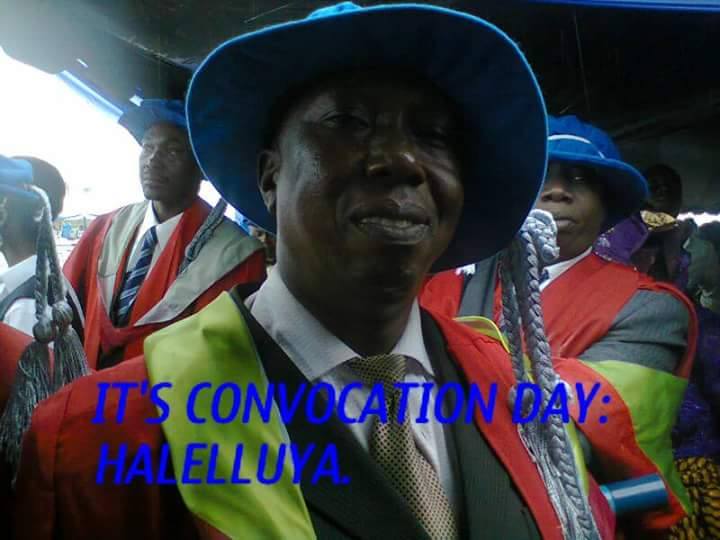 2. He was only last year promoted from a Senior Lecturer to a Principal lecturer which he captured in his biometric data and its record is with Ministry of Higher Education, Asaba.
3. It will take at least four more years or more for Dr. Ighere Jacobs to be promoted from a Principal Lecturer to a Chief Lecturer which qualifies him to contest for the Rector position.
4. Dr. Ighere Jacobs is an indigene of Otefe -Oghara and a cousin to the outgoing Rector, Clara Sogbaike.
5. Secret reporters had in 2015, earlier exposed Dr. Ighere over an alleged sexual harassment scandal where he slept and impregnated a student and later married her as his second wife with the support of Clara Sogbaike his cousin.
As at the time of filing this report, the resolutions of their secret meeting have been communicated to the Commissioner for Higher Education, Jude Sinebe for his express approval of the impending corrupt acts of forgery and corrupt practices to be carried out by Council and Management of the Polytechnic.