Secret Reporters
Medsaf, the once-burgeoning end-to-end pharmaceutical procurement platform, has plunged into chaos due to actions undertaken by its Chief Operations Officer, Rotimi Lawal enabled through an ill-fated marital romance with the founder Vivian Nwakah.
A credible insider source has disclosed to SecretReporters that the deteriorating situation at Medsaf can be traced back to the complex dynamics within the company's top leadership. The source reveals that the relationship between Lawal and Vivian, the Chief Executive Officer, has seemingly played a pivotal role in the downfall of this once-promising enterprise.
Conceived as a carefully curated marketplace for medications tailored to African hospitals and pharmacies, Medsaf initially appeared to be on an upward trajectory. However, the narrative took a starkly negative turn when Lawal, who not only became the COO but also Vivian's husband following his entry into the company, took charge of its operations.
The source unveiled that well before their lavish wedding, which appeared to be financially backed by the CEO herself, the company was already reeling under Lawal's mismanagement, leading to salary arrears for staff members.
In a deeply concerning development, the couple went ahead with their extravagant wedding festivities despite the evident financial distress of the company, thus compounding the hardship faced by the employees. Regrettably, this was just the outset of a series of dire events as SecretReporters would later learn.
Following the eventual collapse of Medsaf, Lawal vanished into thin air, leaving behind a trail of unaccounted company assets, including valuable equipment and vehicles. Interestingly, Lawal's LinkedIn profile, which formerly highlighted his role as the COO of Medsaf, has been rendered inactive, thereby expunging any trace of his association with the company.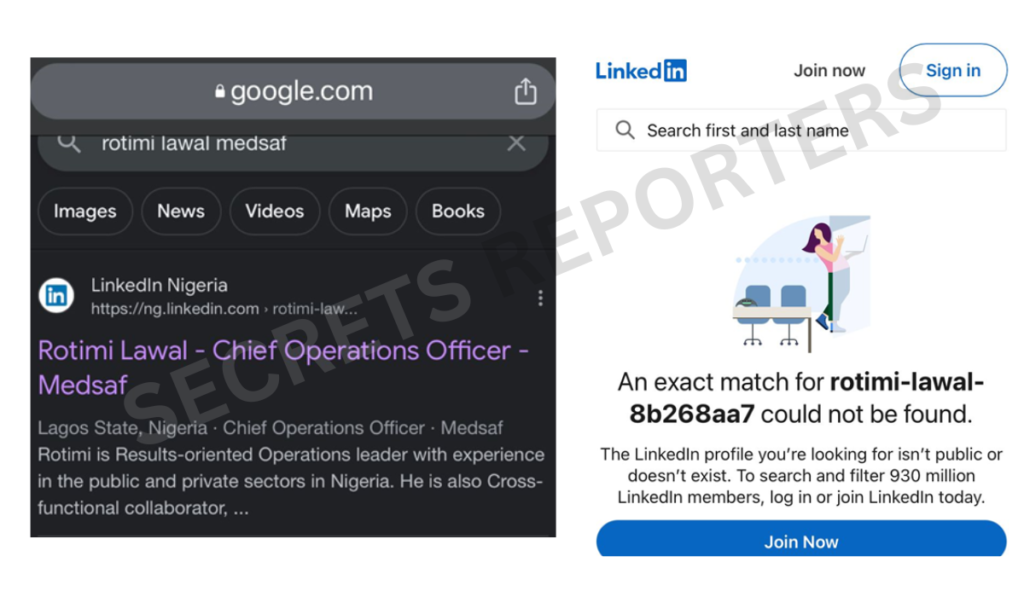 Concurrently, Vivian has taken the unprecedented step of erasing Lawal's name from her LinkedIn profile, which is a stark departure from her initial addition of his name following their marriage.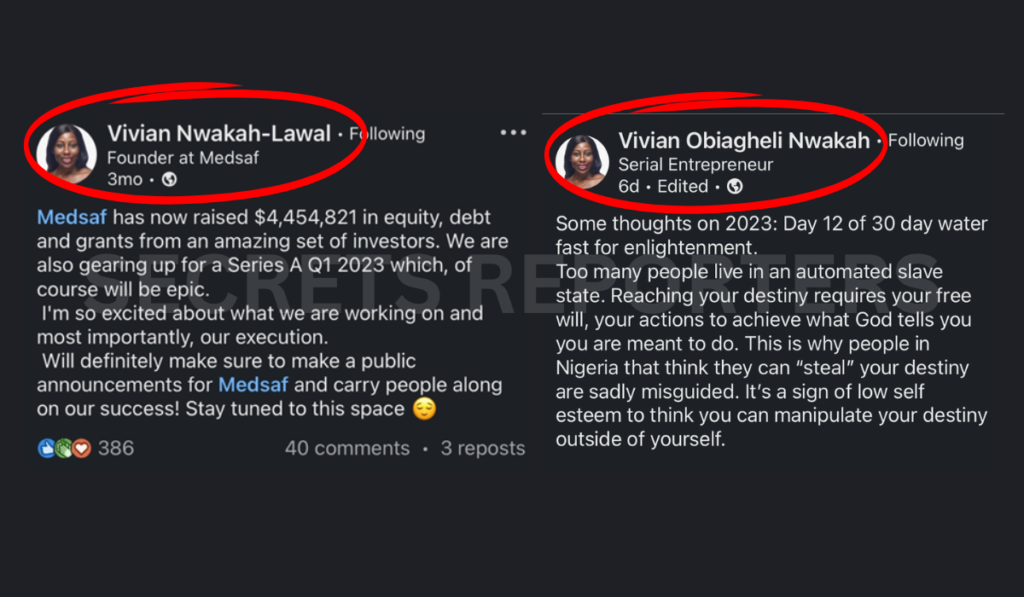 Adding a further layer of intrigue, Vivian's sudden engagement in religious pursuits amidst these adversities has captured the attention of those in her inner circle.
The aftermath of Medsaf's catastrophic downfall has left in its wake a trail of devastation. Employees who were already grappling with unpaid salaries were abruptly laid off earlier this year. Lawal's assurances to employees regarding the settlement of dues, communicated via Slack, proved to be empty promises, leaving staff members empty-handed.
In an attempt to explain the company's downfall, Rotimi Lawal informed employees that the company had to downsize its workforce due to a constellation of challenges, ranging from funding shortfalls to outstanding receivables caused by various macroeconomic policies and the dismal payment practices of hospitals in the industry.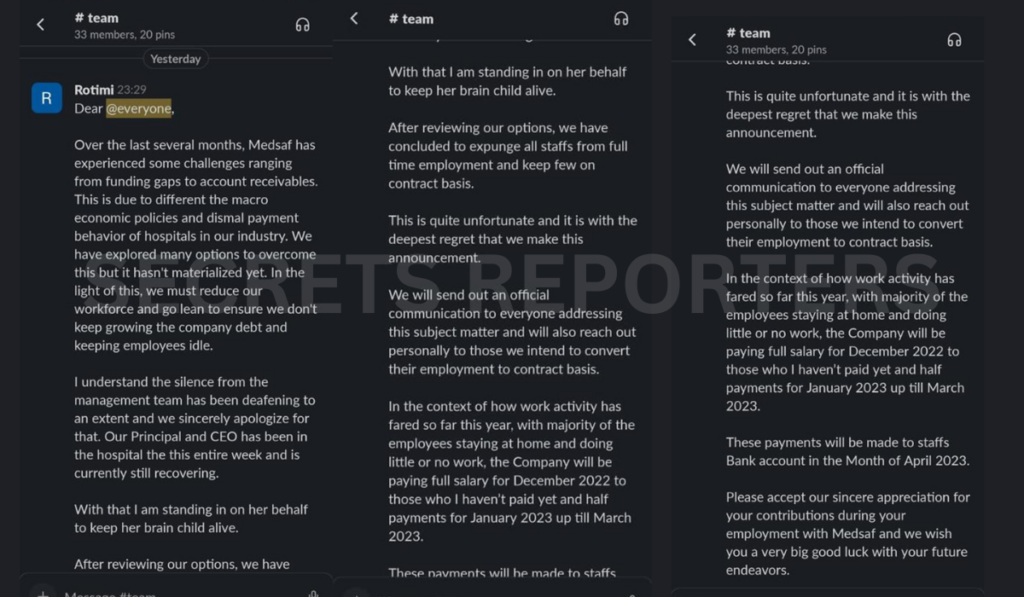 Caught in a precarious predicament, Vivian Nwakah now faces mounting pressure from investors and clients alike, all demanding answers. Among the notable investors is Crunchbase, which had previously extended a generous $50,000 grant to Medsaf. With a roster of at least 14 investors and a LinkedIn following surpassing 5,000, the sudden and dramatic disintegration of Medsaf has sent seismic shockwaves through the pharmaceutical procurement sector.
Vivian co-founded Medsaf in 2017 with a mission to combat the pervasive threat of counterfeit and substandard drugs in Nigeria and across Africa. The company's website boldly defines Medsaf as "a curated medication marketplace for African hospitals and pharmacies." It asserted a remarkable growth of 200% during the pandemic and proudly announced securing $2.7 million in funding in January 2022.
Insiders privy to the situation have indicated that Medsaf began encountering difficulties in mid-2022, notably with delayed salary payments causing distress among employees. Sources suggest that the CEO had informed the workforce about the company's intention to secure additional funds.
However, the company has closed their Lagos office in Ikoyi and moved to an unknown location in Victoria Island, another source said.
As the beleaguered over 20 staff continue to vociferously demand their long-overdue salaries and investors grapple with mounting frustration, the future of Medsaf remains in jeopardy. What was once a promising vision to revolutionize medication procurement has been tragically eclipsed by a narrative of managerial missteps, personal entanglements, ill-fated romance, and financial ruin.