Secret Reporters
Every time money meant for funding the war on the insurgency in Nigeria is stolen or diverted to personal pockets, soldiers pay for it with their lives. This is as the level of corruption entrenched in the high echelon of the Nigeria Military sickens and reeks terribly, as reports reaching our news desk has it that the latest inductee into the association of grand commanders of corruption in Nigeria military is no other person than Group Captain Bukar Abubakar.
Document sent to this online news medium by Citizens United for Peace and Stability (CUPS) reveals that Cpt Abubakar of the Nigeria Airforce who is currently the logistics officer of Operation Lafiya Dole in Maiduguri through his inactions may be aiding the dreaded insurgent group Boko Haram by denying the Nigeria military the needed logistics to decimate the sect.  The corrupt Group Captain SecretReporters learnt cares less about soldiers in the frontline as documents show that he diverted billions of public funds meant for Operation Lafiya Dole to build hotels in Nigeria and South Africa respectively.
Some of the Properties linked to the Group Captain includes the luxurious Castle de white house hotel located at No. 9, Kwato Road, Unguwan Rimi, Kaduna, Shani Boutique Hotel in Pretoria, South Africa, and Shani Silver Star Limited with RC 802663 which was incorporated on 25/2/2009 located in Abuja.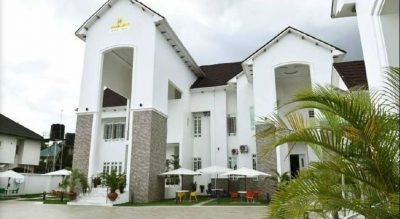 He is alleged to have acquired an expensive building at No 18, Ahmed Pategi Road, Kaduna using one Mr Halliru Mallami as his front with another luxury house at No 1, Coronation Crescent, Kaduna which is said to be worth over 1billion naira. More documents from CUPS revealed he owns another multi-billion naira house behind Sigma Apartments in Wuse Zone 2 Abuja.
Most of his properties and companies we learnt are managed by Mr Halliru Sa'ad Malami, a young man which investigation reveals is below 35years of age and was worth almost nothing before his involvement with the grand looter.
Further Investigations revealed that Group Captain Bukar Abubakar's looting career ascended in 2009 when he was appointed cashier at the Defence Headquarters, as shortly afterwards, he established Shani Silver Star Limited and began to acquire other high valued properties. His three years stint in that position coincide with the period the Boko Haram sect went on rampage, claiming territories and chasing out Nigeria's ill-equipped soldiers who were dying in droves as a result of lack of equipment to prosecute the war while Bukar Abubakar, the Captain unfantastic and others were busy siphoning billions of Naira meant for equipping the military for efficiency and undermining government efforts.
He made his way back into the war theatre as the logistics officer of Operation Lafiya Dole, after returning from the UK where he served as a military attaché to Nigerian High Commission from 2104-2015. The result of his comeback was evident with Boko Haram gaining more ground as his grand corruption was a morale booster to the sect.
While Nigerian soldiers risk their lives in the desert, the captain cruises in luxurious cars worth hundreds of millions of naira. His garage in Abuja and Kaduna houses such luxury cars as Lexus, Range Rover, Mercedes Benz, Jaguar and many more.
The Citizens United for Peace and Stability (CUPS) in its petition to Nigeria's Anti-graft agency stressed that it is imperative that the Economic and Financial Crimes Commission quickly swing into action by leaving no stone unturned and ensure that Group Captain Bukar Abubakar pays for his crime against the military, Nigerians and humanity at large.