Secret Reporter
Interns at the University of Uyo Teaching Hospital may have no option but to curse the wind and wallow in anguish with no sense of achievement after spending a whole year in a state adjudged to be the land of promise while their counterparts in various Teaching hospitals spread across Nigeria will be smiling home after a full year of internship backed with the timely payment of their salaries by the end of July.
This malfeasance which may forever leave a dent in the heart of the Interns has been made possible by the actions of the hard-hearted Chief Medical Officer of the University of Uyo Teaching Hospital, Prof. Emem Abasi Bassey, whom according to reports, have remained unperturbed over the plight of the Interns.
SecretReporters learned that the lingering problem, which was initially, a national issue has since turned into a brazen act of wickedness by Prof. Bassey as other University Teaching Hospitals have paid their Interns except for UUTH and neighboring University of Calabar Teaching, the birthplace of the CMD.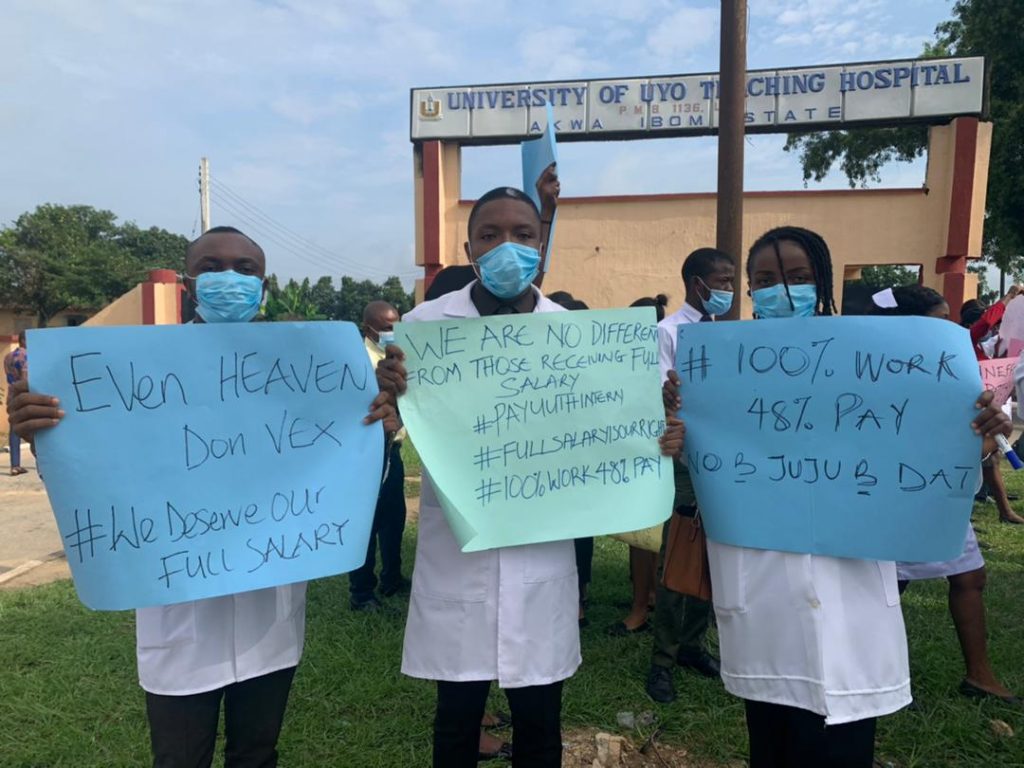 Findings showed that in January and February, the Interns only received 60% of their salary. Following a grumble the next month, their salary was further slashed as they only received 47% of it for March. The rest we learned is now history as no dime has been paid to them since then despite being subjected to carry out their professional duties feeding on hand to mouth.
"These children have been working hard, doing calls, they sleepover in the hospital, yet they are denied salaries. Story upon story, now the management is not even answering them again", decried a senior staff of the hospital who pleaded anonymity.
Investigations further reveal that the University of Uyo Teaching Hospital UUTH, is now filled with an air of professional prejudice as the CMD, Prof. Emem Bassey, who is a Medical Doctor, have deeply divided the hospital staff along occupational lines with physicians undergoing the same internship receiving their full salary till date while others like Nurses, Physiotherapists, Pharmacists, Med Lab Scientists, Radiographers remain unpaid for months.
Efforts made by the languishing Interns to draw the attention of the public and relevant government bodies to wade in on the issue have since yielded no positive result. They have, however, vowed to continue their daily protest which began on Monday 21st June 2021, until their demands are met.