Dr Akpoveta Vincent, a Senior Lecturer in the department of chemical Sciences, Ondo State University of Science and Technology and the founder/Chief executive Dr Akpoveta Vincent Foundation donated very large quantities of personal protective materials (face shields) to the Federal University of Petroleum Resources Effurun, Delta State as part of his contribution to humanity and the fight against the Corona Virus pandemic.
The Vice -Chancellor received the donation on behalf of the university in the presence of principal offices of the university and the press. The Vice Chancellor thanked the donor for this very taughtful idea and remarked that this was the first foundation making a donation to the university.
A highly elated registrar of the university also commended the donor and encouraged other Nigerians to emulate the good gesture of the donor. The Vice Chancellor who was very pleased with the philanthropic gesture of Dr Akpoveta Vincent announced that the donation coincided with his first 100 days in office, which was an epoch making event to commemorate the marking of his first hundred days in office.
He further stated that the name of the donor will go down in the history book of the university. Other programs to mark his hundred days in office was a press conference where he announced a new vision for the university that will make it a globally connected petroleum university whose transformative research and teaching places it at the forefront of leadership in energy discoveries. THe Vice-Chancellor also added that preparations have been made for a blue-print of accelerated growth and development of the university which includes a renewed drive to increase the Internally Generated Revenue of the institution through the establishment of the FUPRE microfinance bank, FUPRE publishing house and a host of others.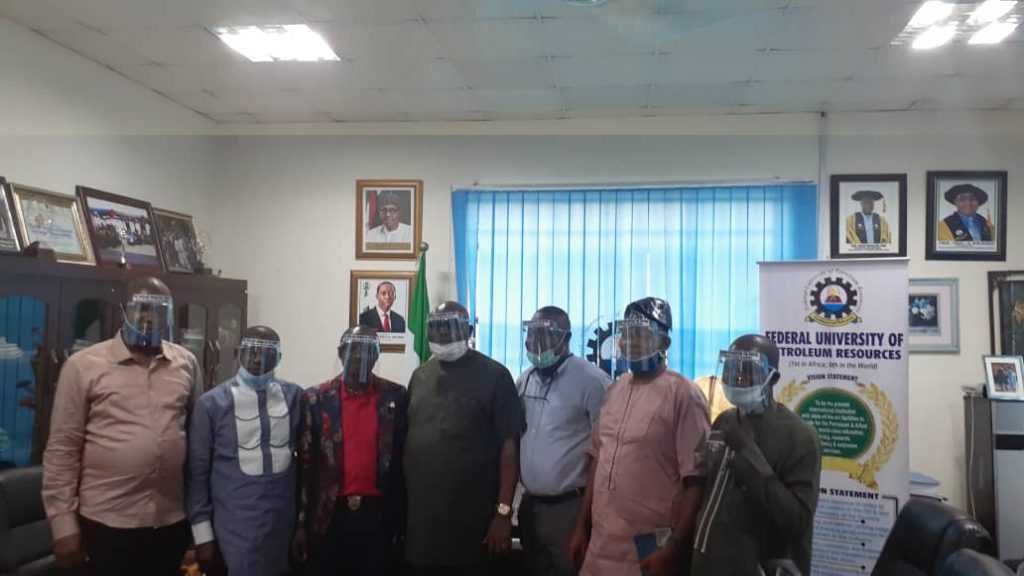 Friends of the foundation which accompanied Dr Akpoveta Vincent to the university for the donation includes PROF EGHAREBA Felix of Ambrose Alli University Ekpoma, PROF Steven Osakwe of Edwin Clark University, Mr Macus ISIEBE of Delta State University, Mr Okokoyo Peter of the College of Education Agbor and Mr Akpobi Yonre. The event took place at the VC conference room on the 19th of August 2020.