Chemstar Manufacturing company boss, Apostle Aderemi Emmanuel Awode, owner of Finecoat and Shield Paints, had his 55th birthday soiree last weekend, it was indeed an impressive gathering as friends, family and associate from all walks of life teemed to celebrate a manufacturing giant, a business tycoon, philanthropist par excellence and an icon of hope to many homes.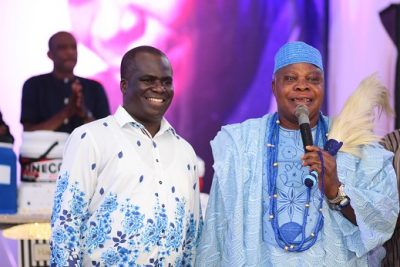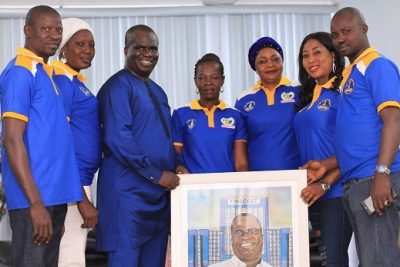 The most cherished asset of Remi Awode is not his head full of knowledge but his heart full of love, ears open to listen, and hands willing to help, reason many of his staff, friends and associates eulogized his good virtues at the birthday shindig. Many of those that graced the event took the pleasant achiever on memory lane on how he touched their lives in several ways; he's no doubt, a good man who brings out the good in other people.
For those that feel that being kind hearted to people got them nothing but rejection and hurt, the story of Aderemi Awode is something the young ones should emulate, despite being hurt a few times, he has never allowed such instances to redefine who he truly is. He's a lover of people whose generosity amazingly knows no colour, creed or religion. Unarguably, this act is one of the factors that led to the success story of Finecoat Paint today.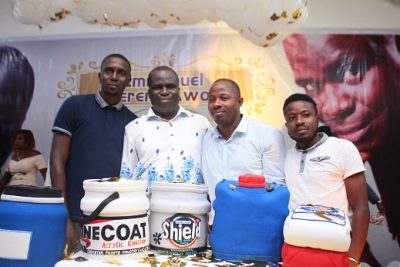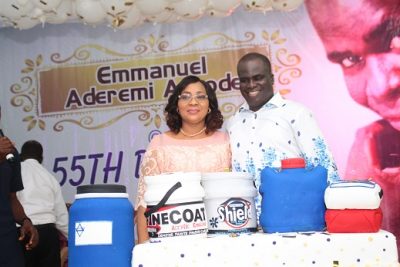 He's a strong believer of an aphorism that, "if you are a thoughtful person who does nice things, don't stop just because the people failed to see the goodness inside you, it's their ejection or lack of response that is the problem, not yours. Don't change yourself, they need to change, they need to work on themselves, keep being the wonderful you".
The strong unapologetic honest and God fearing Awode is one of most kind-hearted people in the world, reason he doled out several millions to empower some members of Cherubim and Seraphim Movement, Divine Blessing Cathedral located at Alagbado area of Lagos where he's a founding member. Apostle Awode does not only see it as his duty to give out of his abundance, he shares even his tank indicates reserve.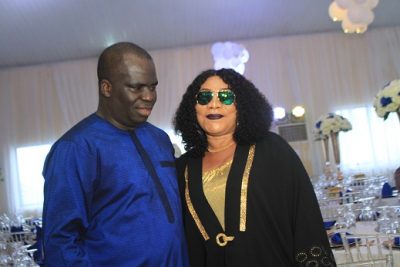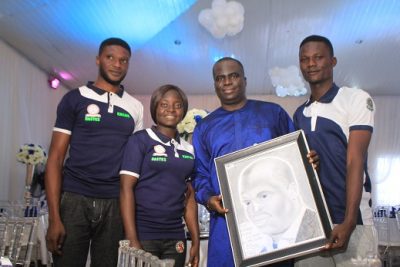 At 55, according to him, is to live his life full of praises of God who has immensely blessed and favoured him. The event was graced by Mr. Toyin Haastrup, Engr. Tunde Akintona, Mr & Mrs. Sam Ajagu, Members of the Galilee Land Development Committee of the C$S Movement Church led by Dr. Bisi Adedire, Mrs. Odeyinka, Founder Fluorescent Group of Schools, Alh. Soladoye, PRO, The Polytechnic Ibadan, Mr. & Mrs. Yemi Sonde, Sp. Apostle John Oyeku, HRH, Oba Oluwalambe Taiwo J.P., The Olojokoro of Ojokoro Land, Pastor Dayo Paseda, Deputy Managing Director, Chemstar Paints Industry (Nig.) Ltd. and many of the alumni of the University of Ibadan who have been friends since then till date.