A married female banker, named, Mrs. Kenny, got impregnated by her senior colleague in the same bank, Mr. Tayo Adeogo, here in Lagos state.
Mrs. Kenny Tolani Akinola who had lots going for her but due to unsatisfactory means of income from her husband everything changed.
This was disclosed by a reliable source from both families. From the ongoing investigation carried out concerning the sex scandal, revealed that Mr. Tayo Adeogo, is happily married with two kids, his wife resides in USA, while the two kids are in, Nigeria.
He's been having an affair with his junior colleague, Mrs. Kenny, for about two years
It was also discovered that Mrs. Kenny herself has been having series of affairs with some of the bank customers; this was discovered via messages on her phone. From her chat, all sorts of immoral acts with different sets of male customers in the bank were found.
January 2016, sister Kenny while still married to her husband was impregnated by Tayo Adeogo, she put to bed in November 2016 at Ifako Ijaiye General Hospital. As soon as the child was born Sister Kenny's mother who was based in Ibadan came to help cater for the baby.
Kenny's husband represented the position of a father during the naming ceremony of this same child. HELSUS was the name given to the baby which also happens to be extracted from Tayo Adeogos Company, HELSUS NIGERIA INTL. LTD.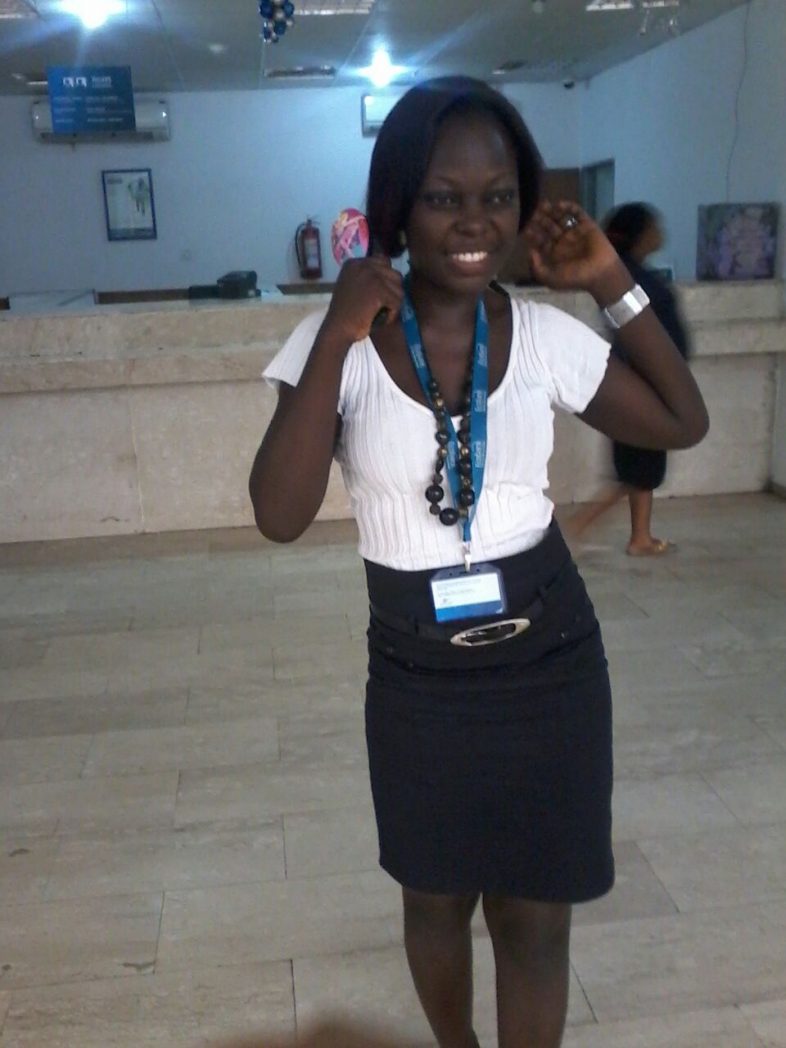 Later that year, Mrs. Kenny and her mom went back to Ibadan and things started to change for the worse. Mrs. Kenny's relationship and communication with her husband reduced drastically. They were there for almost two months; during this period there was strong intimate communication with Tayo Adeogo up to the point that Mrs. Kenny called Tayo Adeogo to spend Christmas day with her in Ibadan. Due to the nature of Tayo's work, Tayo arrived at 10:00 pm on Christmas Eve to spend the night with her at her parent's house. This was disclosed by a close relative at her family house in Ibadan.
Mrs. Kenny came back with her mother once again but this time unknown to her husband they had a plan.
The same week they arrived in Lagos, Mrs. Kenny demanded for her marriage certificate as well as all her education certificates from her husband since he was keeping them. Her husband gave them to her though he was suspicious as he didn't understand why she wanted all her certificates. She informed him she wanted to use the certificates personally to process some school documentations.
What broke the camel's back was a conversation that stated that Mrs. Kenny was getting a permanent transfer from Lagos to Ibadan. Everything was planned by Mrs. Kenny, her mother and Tayo.
Investigations made from the branch where Mrs. Kenny was working before her transfer to Ibadan, Ogba Plaza branch that she and Tayo Adeogo has been processing the transfer weeks before the final transfer was made.
Tayo Adeogo has always pick and drops Mrs. Kenny to and from her house on daily basis without the knowledge of the husband. Moreover, all the branches both have worked at Ecobank Isheri branch, Ecobank opposite FRSC (were they met when the bank's name was still Oceanic bank) all branch staff will confirm this occurrence and intimacy.
In addition, Mrs. Kenny prepares home cooked meals for Tayo Adeogo on daily basis according to our investigations.
The following week, her husband got home after the transfer and met almost an empty apartment, the refrigerator, washing machine, microwave, kitchen cabinets, blenders, mobile AC etc. up to the kitchen knife and wall clock to mention a few were taken away from the house.
As at the time this publication was compiled nobody knew their whereabouts apart from the fact that Sister Kenny Akinola's has been transferred from Ogba Plaza opposite Blue Cross Hospital to an unknown branch in Ibadan. Currently, she is on one month leave in order to finish the transfer process in Ibadan while Tayo Adeogo whose bank e-mail address is oadeogo@ecobank.com is currently working in Oba Akran branch as Head cash Teller in the same bank, ECOBANK.
Tayo Adeogo who used to be an assistant pastor at Firebrand Pentecostal Church Inc at 7, Olabisi Aduni, off Kings Avenue, Ojodu, Lagos, also impregnated a church member. He was sent out of the church after the disgraceful act.
At this moment, investigations is still ongoing to reveal more hidden secret about this corporate sex scandal.