Secret Reporters
Irrespective of the position of the law, it appears that the Governor Babagana Zulum's Borno State administration, under the godfatherism of Kashim Shettima, believes more in sharing the State's contracts among kinsmen.
Assessment carried out on the Borno State Bureau on Public Procurement by SecretReporters revealed that Borno's Ministry of Works under the stewardship of Yerima Selah awarded two contracts worth N737,535,341.67 to Obtuse Technical Engineering and Construction LTD, a company owned by House of Representatives Member, Eng. Satomi Ahmed.
According to the data, the ministry, in 2020 awarded the multimillion naira contracts to the company for (1) Construction of Jiddari Polo 3.7km road and drainage within Jiddari Polo of Jere LGA, worth N649, 364,226.75 and (2) Construction of storm water outfall within Jiddari Polo of Jere LGA, worth N88, 171,114.92.
It is germane to note that Yerima Saleh, who was the Commissioner for Works as of when the contracts were awarded in 2020, was in December 2021 redeployed to the ministry of environment. The reason for his redeployment was not stated.

About Obtuse Technical Engineering and Construction LTD
OBTUSE TEC ENGINEERING AND CONSTRUCTIONS LTD was incorporated in KANO, Nigeria with Registration Number 1114389. It was registered on 13 May 2013 and its current status is unknown. The company's registered office address is PLOTC25, BUKROAD, KANO, KANO.
On the company's Board of Directors are Engr. Ahmed Satomi and Eng. Ali Garga Bukar. Ahmed Satomi, who was born on 21st February 1981, is a member of Nigeria's 9th House of Representatives. He was elected as member of House of Representatives in 2019 to represent Jere Federal Constituency.
He previously served as the chairman of State Emergency Management Agency and head of Borno State Road Maintenance Agency.
What this means is that while he represents the people of Jere Federal Constituency during the day at the House of Reps, he returns at night to use his company to collect contracts in the same constituency.

Meanwhile, a check on the Corporate Affairs Commission shows that Obtuse Technical Engineering and Construction LTD is not active. According to CAC, "A company that has not been filing its financial returns within a specified time is classified as inactive."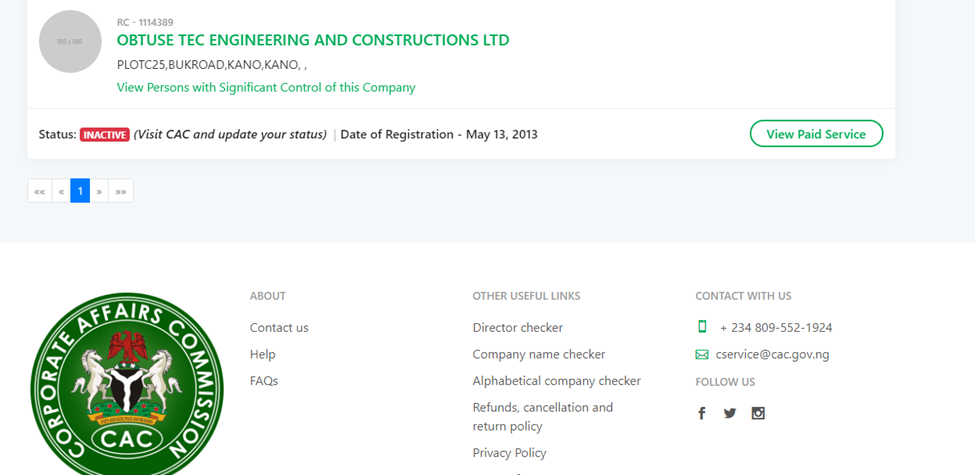 Only civil servant on a part time basis are permitted by law to engage in or participate in the running of a private business as directors or a private company.
Efforts to speak with Satomi Ahmed proved abortive as he did not take his calls.