Secret Reporters
In line with their commitment to democracy and good governance in Nigeria the International Press Centre (IPC), Lagos-Nigeria, recently held a two-day workshop in Abuja for online journalists/bloggers on conflict sensitive reporting online, ahead of the 2019 general elections.
The two-day workshop which was held on the 20th and 21th of September at Grand Pela Hotel Abuja as a follow-up to a similar one held in Abeokuta for the south-west region, had in attendance over 30 online journalists/bloggers from the FCT and states from other geopolitical zones in the country.
Based on component 4b of the European Union Support to Democratic Governance in Nigeria (EU-SDGN) project, the aim of the workshop was to enhance the capacity of the participants in using online media as a tool for fair, balanced, language and conflict sensitive reporting of the elections as well as mitigating hate speech and Fake news in Nigeria.
In his opening address, Mr Lanre Arogundade, the Director of International Press Centre disclosed that the training was necessary because the online environment now occupies a very central place in media operations in Nigeria as it now offers a converging point for all the traditional and conventional media (The Radio, Television and the Print) such that everyone now speak of media convergence. He however, hinted that there exists a fear that in the realm of politics, violent conflict during elections could occur if online journalism practitioners and bloggers refuse to embrace conflict sensitive principles.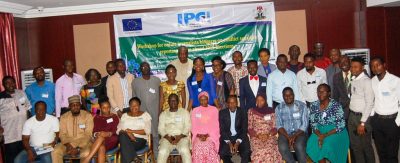 While delivering a paper on "Contemporary conflicts in Nigeria and possible impact on media coverage of 2019 elections" Dr Y.Z Yau, the Executive Director, CITAD stressed on the need for journalist/bloggers to get in-depth knowledge of a conflict before reporting than falling prey to the easy seductiveness of conspiracy theories around conflicts. He also maintained that the media could help by focusing on the underlying triggers of the conflict than the drama while urging the participants to keep to the Nigerian Media Code of Election Coverage.
Also in her lecture on "Hate Speech & Fake News", one of the keynote speakers for the workshop, Dr Ruqayyah Yusuf Aliyu from the Department of Information and Media Studies, Bayero University Kano, said that for a healthy information-rich society where peace, harmony and democracy can thrive, ethics and professionalism is necessary for every online journalist/blogger especially now that Nigeria is faced with a challenge of proliferation of hate speech and fake news. She advised participants to be honest, fair and courageous in gathering, reporting and interpreting information and to always practice the journalism of conscience.
Mr Musikilu Mojeed, Editor-In-Chief, Premium Times in one of his presentation on "Social Media & Elections: Giving Practical Effect to Conflict Sensitive Reporting Online" outlined how journalists can contribute to peace-keeping, peace-building, and peace-making processes in Nigeria. He also gave practical tips online journalist/bloggers could use on conflict sensitive reporting online and how to mitigate hate speech while recommending that journalist/bloggers should profile peacemakers and when possible subdue voices of purveyors of intolerance and cheerleaders of hate, xenophobic & religious extremists. He also advised that they should avoid sensational and misleading headlines in their reports but rather stick to professional and credible reporting.
The workshop was accompanied by an interactive question, answer and comment sessions including group sessions where participants took turns to brainstorm and deliver presentations on emerging issues, real-life scenarios, and practical steps to managing Fake news, Hate speech and Conflict situations in online reporting ahead of the 2019 general elections.