Secret Reporters
Insider sources within the Delta State Government House have disclosed how immediate past Deputy Governor, Mr Kingsley Otuaro and his boys carted away properties of the State government in his office, just before the new government assumed office.
SecretReporters sources revealed that the looting, which cut across all the political offices under the office of the Deputy Governor, was spearheaded by Otuaro's aides Amadi Doye and the office Director Mr. Keneke Emotoghan.
It was gathered that, Keneke Emotoghan, a co-mastermind of the looting, ensured that both the new and old cars assigned to the office were made away with.
This online media gathered that Keneke made away with valuable items for his personal use. "He knows all that transpired in the looting of the Deputy Governor Office, his lodge and aides quarters," one of the sources said about Keneke.
YOU MAY ALSO LIKE: Royal Might: How Delta State National Union of Local Government Employees Bypassed Five Senior Members, Appointed Gov. Okowa's wife friend As Treasurer Liaison General
SecretReporters learned that the chief mastermind of the loot, Amadi, carted away household properties including foams and chairs from the lodge and the aides' quarters at DBS road to a hotel he is allegedly building.

According to the source, even electric bulbs, air-conditioners (ACs), smallest household items and furniture were removed from all offices and official quarters.
"Even the lodge he stayed for the eight years which he vacated for Sir Monday Onyeme wasn't spared," the source said.

The source said Amadi Doye took most of those Deputy Governor's Lodge furniture and the big GP water tanks to the hotel he is building in Warri.
Investigation revealed that Amadi bears 'Famous King Dorye' on Facebook.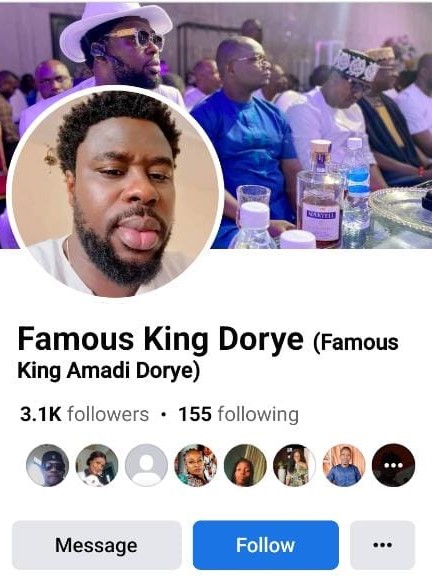 The source revealed that "Mr. Keneke Emotoghan is secretly nicknamed as "Oga Say" because whenever he wants to take anyone's schedule, he will say "Oga Say make I personally do it and report back to him" or "Oga Say make I take charge", and that was how he took charge of all juicy schedules of all Staff at the Deputy Governor office including fueling/Diesel in the office rendering all other Staff redundant because nothing to do except to wait for month end to receive salary.

"The only people he didn't take their schedules were cleaners, typists and securities but he personally buys soaps and toiletries and papers for typing. He used Kingsley Otuaro's name to intimidate all staff in the office whenever he wants to oppress them or take their schedules.

"Mr. Keneke Emotoghan made staff in the Deputy Governor office to see Kingsley Otuaro as "Ijaw Deputy Governor instead of Delta State Deputy Governor" causing prayers for May 29 to come fast for his exit then.

"Keneke Emotoghan cannot deny knowledge of the looting of the office. Sheriff Oborevwori should face Keneke Emotoghan because we learnt nothing positive came out from the call he made to Kingsley Otuaro regarding the looting," a source said.
According to a source, Emotoghan just bought a new gold colour Highlander Jeep and a new blue colour Toyota Corolla.

It was disclosed that one of Otuaro's boys simply identified as Tony connived with Emotoghan and sold Delta State Government Prado Jeep allocated to the Protocol Unit of the Deputy Governor Office at a mechanic workshop at DLA link road to Asaba-Onitsha expressway.

Our source noted that when the Permanent Secretary Ministry of Transport heard about the news and asked why they did that, Emotoghan said all convoy vehicles are personal property of the Deputy Governor.
"The question people are asking is if it's true then didn't former Deputy Governor Prof. Amos Otuamah leave with them because Mr. Paul Oyeye used that very Prado Jeep Tony sold," a source said. Oyeye was the Chief Protocol Officer CPO to Prof. Amos Otuamah.

A staff at the Deputy Governor office who spoke to SecretReporters on the condition of anonymity, said Otuaro is fully aware of all the looting "because the day they brought crane to carry the Generating Plant (Set), Keneke Emotoghan and Amadi where speaking with him on phone and that is how the office people knew they were looting the lodges".
SecretReporters gathered that when the new Deputy Governor, Mr Monday Onyeme assumed office and learned of the looting of his office in Asaba and Abuja, he intimated his principal, Sheriff Oborevwori, who did not make any move about the development.
A source revealed that when Monday Onyeme's wife saw that they even removed toilet doors from the main lodge, she was just shouting "I thought they said they are rich so why are they removing everything including doors".

"We learnt that when Sir Monday Onyeme saw the way the Delta State Deputy Governor Lodge in Abuja was looted, he then called Sheriff Oborevwori to come see himself and on getting there and seeing it himself, Sheriff Oborevwori then called the PS Deputy Governor office Mr. Maxwell Awuse to ask where he was when the Asaba and Abuja lodges were looted to that level and he said he knew nothing about it," the source said.
"Sheriff Oborevwori then called Kingsley Otuaro himself and nothing came out. A lister Generator was carried with crane from the Lodge in Asaba and Abuja. I pity Sir. Monday Onyeme because he couldn't talk but just nursing the looting of his office since he's powerless," the source added.

The source also revealed that Governor Ifeanyi Okowa returned cars in his care to back to government house "while Kingsley Otuaro used his boys to loot his. Monday Onyeme is sad for what happened in his office by Otuaro boys".
The source lamented that "Apart from the statutory N150 million, Kingsley Otuaro was receiving monthly, there are different monies that come in always ranging from N30M to N50M from Ex Governor Ifeanyi Okowa for him to represent the Government in occasions in Abuja and Lagos yet he would go with the convoy and pocket all monies".

Kingsley Burutu Otuaro was the deputy to Governor Ifeanyi Okowa between 2015 and 2023. He was the special adviser to James Ibori on Community affairs.
He served as the Commissioner representing the Ijaw ethnic nationality on the board of the Delta State Oil Producing Areas Development Commission (DESOPADEC) before the board was dissolved. On re-constitution of the DESOPADEC board, Governor Emmanuel Uduaghan re-appointed him to serve in same capacity from 2012 to 2014.