Secret Reporters
Few days after Secret Reporters revealed how the lawmaker representing Ika North East Constituency in the Delta State House of Assembly, Mr Anthony Elekeokwuri celebrated the building and commissioning of a church donated to the Anglican Church as his sole constituency achievements, instead of developing his communities, his media handlers hurriedly put pen to paper listing non tangible things he has done.
One of the motions said to be moved by Elekeokwuri is the sponsorship of a motion to include Ika Nation among the oil producing areas under the Delta State Oil Producing Area Development Commission (DESOPADEC), which never saw the light of the day as the pipelines that will ferry oil across the communities has not been linked.
Investigations carried out by Secret Reporters reveal that the lawmaker has not only lied but claimed a glory in which he was not fully present on the day of sitting. We can report authoritatively that Mr Festus Chukwuyem Okoh popularly called Chukky Dandy of the Accord Party from Ika South moved the motion to include Ika among oil producing areas.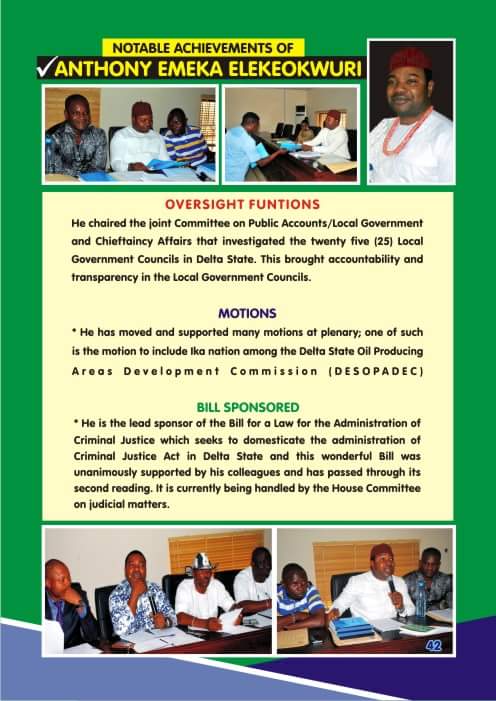 Continuing his lies, Elekeowkuri also stated that he graded seventeen earth roads in his constituency. Facts finding carried out by our reporters to the communities shows that not one single road was truly graded. The only one managed to be graded according to sources who spoke to us was done by the governor, Ifeanyi Okowa. "Let him name the seventeen places he graded his so called earth roads and not just sending his yahoo yahoo boys to write nonsense on peoples Facebook pages", an angry constituent spoke to us.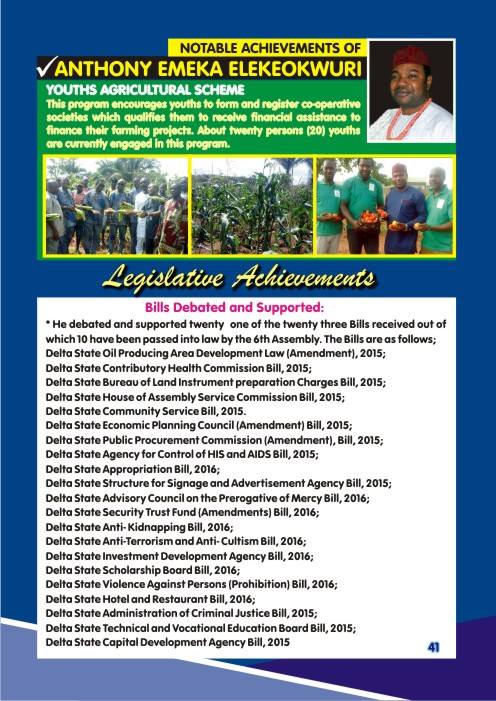 Contrary to claims by him that he has an agricultural scheme in place where twenty youths received money from him to go into fish and crop farming, a very angry member of his community told Secret Reporters that "Is it Tony who is so stingy that will give money to youths? 2019 will soon be here and we will be expecting to see the so called beneficiaries already rich to campaign for him. One Naira he has not given to anybody since he became House of Assembly member".
His only achievement so far recorded by Secret Reporters is being party to moving of motions where he answers only "ayes". He has only sponsored a bill for a law the Administration of Criminal Justice seeking to domesticate the administration of criminal justice act in Nigeria, which has no benefit to those he represents.