Secret Reporters
In a bid to cover up details of a thorough investigation on a murder case which has rocked Calabar, the Cross River State capital since 2014, and has seen corrupt Judges in the state's judiciary being exposed by our medium and a sister medium, Cross River Watch, Vanguard has consistently published the side that matches with their financial demands.
We have reliably gathered that their Correspondents sit in a joint to cook up stories and send to their Lagos office, without any form of investigation, as long as monies exchange hands, and the payer gets his story published the way he wants it.
In a statement obtained by Secret Reporters, the mother of Derrick Maurice, one of the six persons who was extra-judicially killed by the 14 dismissed SARS policemen, lamented the concocted lies of the Vanguard correspondent in Calabar, Emmanuel Unah, in misinforming the public on the true situation of the case, and has urged members of the public to be careful with what Vanguard publishes through Emmmanuel Unah's lies.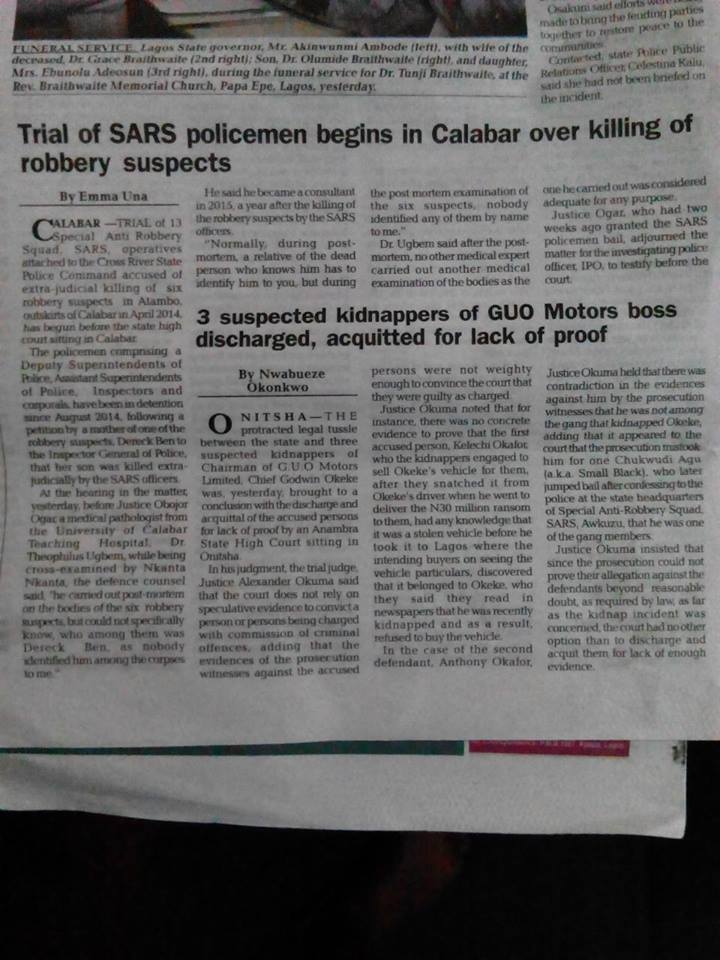 Recollect that, the Vanguard Correspondent has been standing trial in court, on a case which he was caught smuggling documents into the police cell, at Police Zone 6, on behalf of the dismissed officers. Derrick's mother said, "Emmanuel Unah of the Vanguard newspaper had demanded some monies which I did not consent to giving, only for him decline from making story out of my petition with the impression that; "- He cannot publish anything about these SARS MEN, that they are all murderers. – He has witness them kill severally. – One of the accused persons Gershom Isotuk & his step mother's house is just by his house, and the entire environment knows him to be very deadly and he kills anyhow. – That he does not want them to start coming after him." Emmanuel Unah was quoted as said, only for him to be bought over as realized.