Secret Reporters
In a disturbing recurrence of fraudulent activity, NIRSAL Microfinance Bank (NMFB), a subsidiary of the Nigeria Incentive-Based Risk Sharing System for Agricultural Lending (NIRSAL Plc.), has sounded the alarm bells cautioning the public about a devious impersonation scheme that preys on the trust of unsuspecting Nigerians.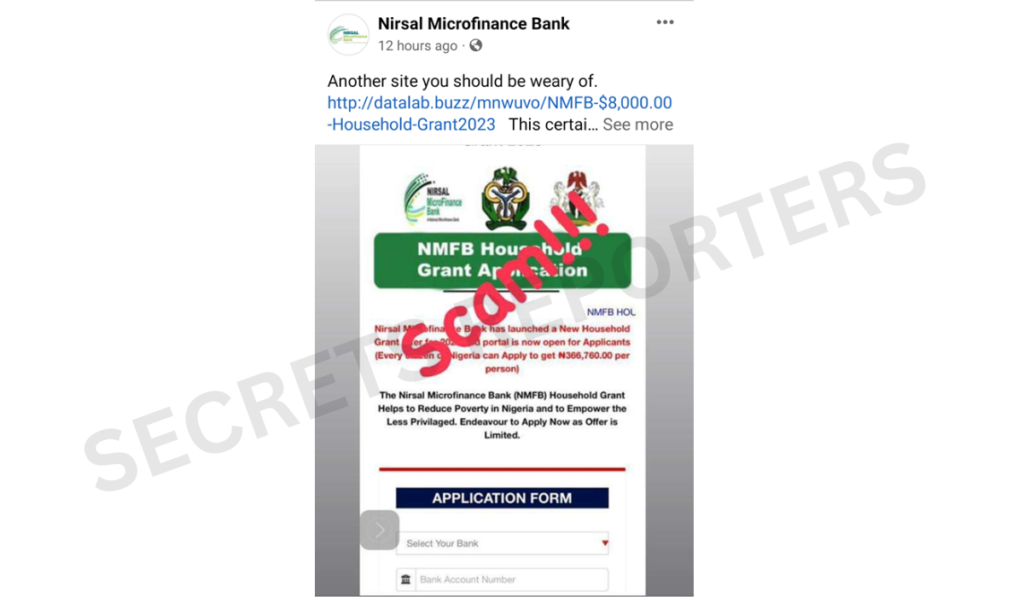 Following the Financial Institution's warning, SecretReporters launched an investigation into the matter, determined to unmask the perpetrators behind this audacious ploy.
Upon accessing the deceptive link shared by NMFB on its official Facebook page – http://datalab.buzz/mnwuvo/NMFB-$8,000.00 -Household-Grant2023 – SecretsReporters team uncovered a complex web of deceit. The link redirected to a website identified as netburst.buzz, cleverly designed to mimic the NMFB's legitimate online platform.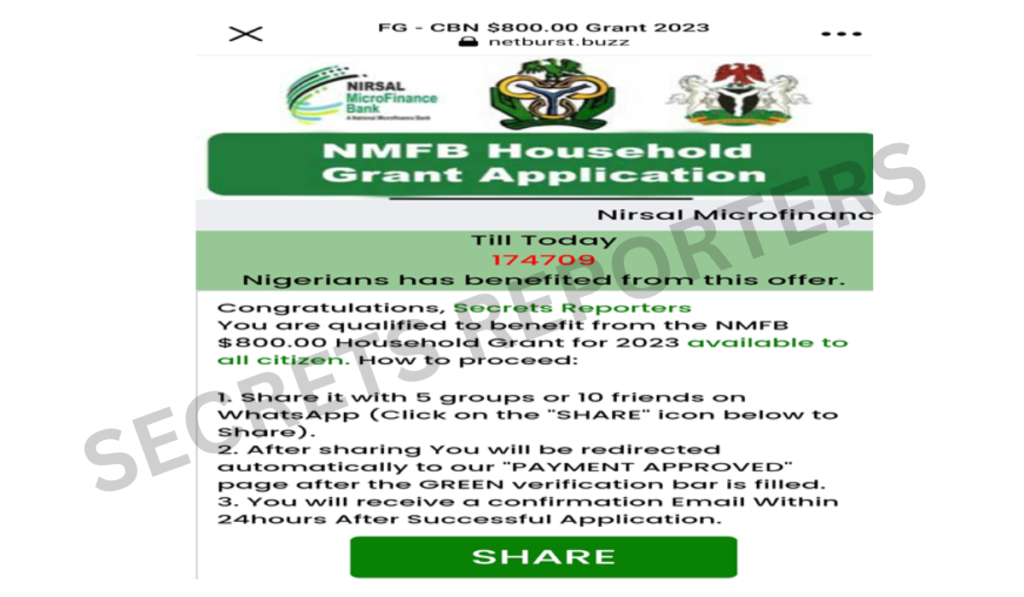 The deceptive website presented users with a loan application form, cunningly resembling an authentic NMFB loan offer. However, the nefarious twist revealed itself when, upon form submission, a sinister pop-up demanded that applicants share the fraudulent website link across various social media groups. This dubious requirement was posed as a prerequisite for loan approval. The page cunningly showcased purported testimonies from applicants, further bolstering the credibility of the counterfeit loan offer.
READ ALSO : Power Drunk: Federal Neuropsychiatric Hospital Medical Director, Monday Igwe Ignores Minister's Order, Sacks Assistant Director Nursing Buzo-Maduka Ruth
Undeterred, SecretReporters delved deeper, seeking to expose the mastermind behind this intricate facade. However, the investigative trail hit a formidable roadblock, as the identity of the website's registrant was meticulously concealed. This anonymity serves as a damning confirmation that the website is nothing more than the handiwork of cunning fraudsters, whose ultimate goal likely involves harvesting sensitive banking information from unsuspecting victims.
Key information about the fraudulent website, netburst.buzz:
Domain: netburst.buzz
Registrar: NameSilo, LLC
Registered On: 2023-03-25
Expires On: 2024-03-25
Updated On: 2023-03-30
Status: clientTransferProhibited
Name Servers: mcgrory.ns.cloudflare.com, lauryn.ns.cloudflare.com
Registrant Organization: PrivacyGuardian.org LLC
State: AZ
Country: US