Secret Reporters
Beauty is pride and whoever is blessed with it by the heavens daily flout it like tomorrow never comes. They walk the earth like it's only meant for them. A lady blessed with it knows that she is a gold that has no hiding place. Like the peacock, she struts the placing with seas of men drooling to have a taste of her. She's a charm and she knows it. She wields it on men with power and money and like the charm that she is and possesses in beauty, they fall under the spell.
This is the jet age where beauty is judged by three things; big buttocks fondly called ass or booty, big boobs and a pretty face. For these three, most men empty their accounts and only relish in the pleasure of five minutes, before regret set in. soon after, they go all out again in search of the next figure eight shape. It's a circle.
Those not blessed with these features have found a way to be faster than the creator by recreating themselves through reconstructive surgery. Reconstructive surgeries can be done to save lives and reconstruct damaged body parts resulting from accidents or natural causes.
To make eyes turn, Nigerian ladies have taken to undergoing this surgery to increase their boobs, ass and a better shape that can compete with a hour glass. Once done, it's now a banging body, such that has rendered many matrimonial homes asunder and rich men falling from grace to grass.
Secret Reporters investigations led to the discovery of a hospital in Lagos called Grandville Medical and Laser, located in Lekki, where such surgery to look the shape that appeal to the eyes takes place. Findings by us is that the surgeons and medical practitioners in the hospital have 90% rate of professionalism in carrying out their duties and have stopped medical tourism of ladies leaving the country for such body enhancement and liposuction.
No fewer than fifty Nigerian girls have gone under their blades to have a better shape. Information gathered by this medium revealed that the hospital charges a minimum of N1 million to perform liposuction on any of the ladies, who daily troop there. . Ironically, most of the girls who carry out this body enhancement are from poor homes, our survey revealed and do so just to create impression on social media, while engaging in corporate prostitution. We gathered from sources, that it has turned to the Mecca of body fashion in Nigeria.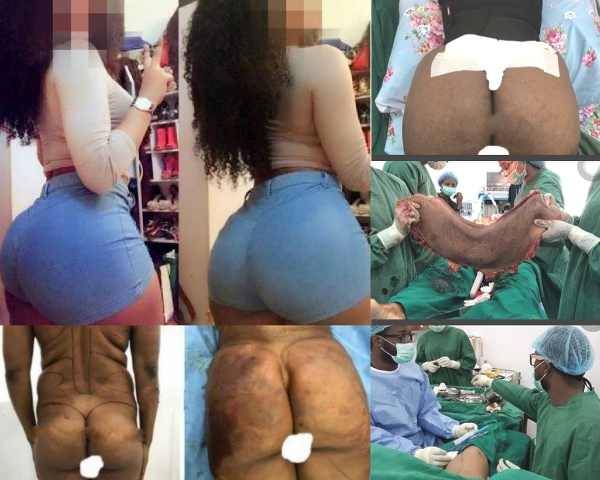 "Almost all the Island girls on VI, Lekki and even mainland you see with big ass and boobs went for surgery. All is to attract big boys like you who love ladies with ass. You guys are the ones pushing us to do it. Since we don't have it from birth, we have to give ourselves one. Just check any girl you meet today and check their pictures of two years ago on social media and you will find out that they never had big ass or boobs", one of the ladies familiar with the trend confided in us.
When Secret Reporters reached out to Grand Laser, they refused to comment on the exact price they charge as well as the processes it takes before any of the ladies go under the blade.