Secret Reporters
As Nigerians continue to savor the hardship brought about by President Muhammadu Buhari, his government continues to waste the scare resources for personal pleasure that is yet to impact positive on the citizens.
In one of such extravagant move, the wife of the country's Vice President, Mrs Oludolapo flew the Presidential Jet to Benue State on the instruction of the first lady, Mrs Aisha Buhari to express their condolence to internally displaced victims of Agatu community and other neighbouring communities, which was almost razed down by Fulani herdsmen, with many of the villagers killed.
Her visit to the state sources revealed gulped over N220 million from the treasury, while she only donated items of not more than Two Hundred Thousand Naira, which included just five bags of rice, five cartons of cowbell milk, two cartons of groundnut oil, two cartons of indomie and few other cheap items.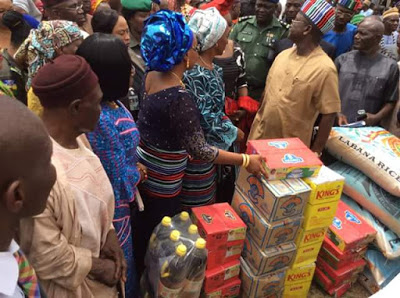 A Nigerian on Facebook, John Junior criticized the trip and poor donation stating "there must be a weed Farm in the Villa that this guy's do smoke. They must be high on something". The action has sparked off mockery on the Presidency from angry Nigerians.