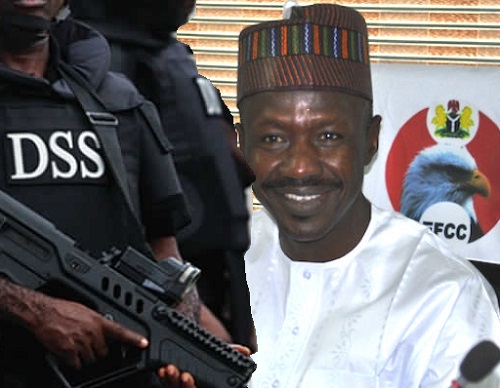 A police guarding a farm house where Ibrahim Mustafa Magu's secret consignments are stashed has died after an exchange of gunfire with the Secret Police.
The incident occurred late on Tuesday evening, when the Department of State Services, DSS, stormed the farmstead in Karshi, a suburb in Abuja, where Mr Magu, acting chairman of the EFCC, "illegally stationed" police officers to guard dollars he secretly keeps.
Staff at the Economic and Financial Crimes Commission, EFCC placed an emergency call to this newspaper as soon as they heard what was happening.
Mr Magu currently lives in an a luxurious apartment in Maitama District of Abuja, which was furnished for him by a retired Air Commodore, who remains in DSS custody. The 53-year-old owns another apartment in Karu.
All public servants in Nigeria are expected to declare their assets, but DENISAURUS News can reveal that the farm house in Karshi is a newly acquired property, which the EFCC boss does not want the public to be aware of.
DENISAURUS News has reached out to Wilson Uwajuren to get more information; however, since the exclusive expose on Nigeria's suspension from Egmont, the EFCC spokesperson no longer picks our calls.
Muddy Anti-graft Boss
The DSS had in a report exposed Mr Magu as a liability to the corruption fight. In the 16-paragraph letter, stated that the "corrupt" Borno police officer had "failed the integrity test and will eventually constitute a liability to the anti-corruption drive of the present administration."
DENISAURUS News, the first to publish the details of DSS report against Mr Magu, has earned the trust of EFCC staffers who have provided various information of the illegal business being carried out by their boss.
Payroll Fraud
Staff have long exposed the criminality of Mr Magu. Despite, making many petition and calls for action from the relevant authorities, they feel nothing has been done to salvage the problem caused by their boss.
Recently, DENISAURUS News  gathered that Mr Magu has taken steps to eliminate evidence from allegation made against him in a petition sent to the National Assembly. Mr Magu, this newspaper understands carried out an illegal recruitment exercise and "was asked to submit the Commission's Nominal Roll."
Sources at the anti-graft commission say: "It is regrettable to learn that the copy submitted was altered and doctored." This paper reliably gathered that Mr Magu submitted fake and forged Nominal Roll to deceive d investigation committee.
Explaining the cover up, Shehu Bashir said it was "an attempt to hide the fact that he has been paying illegal salaries to ghost workers and committing serious financial crimes."
Credit: DENISAURUS News