Secret Reporters
When Blessing Sam Udoaka resumed work at Agur & Sage Capital Limited as the secretary of the company in August 2019, she thought her days of roaming the streets in search of what to do were over.
With a monthly salary of N40,000.00 attached to the role, Blessing was not deterred despite always being alone in the office as she was the only staff employed. For her, the lack of activities in the office was no issue as long as she had food on her table. However, she was always troubled as to why nothing was happening in the office. Months later, a certain Femi was employed.
The Bait
About two months into the job, the company's owner, Ayobami Akinwale Tinuoye who was not always around, inquired about the challenges Blessing was facing. Asthe average Nigerian would do, Blessing gladly offloaded her issues before Ayobami, in the hope that her messiah had come. Among others, Blessing told him that accommodation was a major issue, as she was staying with friends at the time.
Moved by Blessing's ordeal, an emotional Ayobami wired N100,000.00 into her account to help assuage her challenges. What Blessing did not know was that the money was bait to grease her palms for the days ahead.
The Catch
Shortly after Ayobami gifted Blessing the N100,000.00, he started subtly asking her to lend him money. And to have his way, he would always give her one flimsy excuse or the other. Ayobami had successfully painted himself as a 'Big Man' before Blessing so she was never afraid of him refunding the money she was loaning him.
By the end of the third month, Ayobami did not pay Blessing her salary, yet the occasional borrowing of money from her continued unabated. To compound Blessing's predicament, her employer did not also pay her fourth month's salary. But because he was a 'Big Man' before her, she held her peace that the money will soon come. But, while she kept that dream alive, she got a text message from Ayobami that she had been sacked. Efforts to get her money proved abortive as Ayobami had swiftly changed the office key and she had no idea of where he lived or how to trace him. Phone calls to Ayobami yielded no results and later, means of communication between them were severed after the 'war of words'.
The Fraud
A year later, Blessing bumped into Femi in the City of Abuja who told her that her embattled former employer, Ayobami asked of her. Later that day, Blessing unblocked Ayobami and placed a call to him, in the hope that he was ready to pay her money. They arranged to meet in a certain hotel in Abuja where Blessing intimated to him all the challenges she had been facing since they parted ways. Blessing confirmed to our correspondent that there was no affair between her and Ayobami. On his part, Ayobami told our correspondent that there was no affair between them.
YOU MAY ALSO LIKE: Silent Looter: How Oyo State Government Awarded Two Contracts Worth N600 Million Through Back Door To Unknown Contractors
Again, Ayobami was moved by her ordeal and assured her that he was going to help her. For Blessing, Ayobami's promise was what she needed at the time, and she felt things were really going to change for her. Things eventually changed but not for the better.
The Agur & Sage Capital Limited boss told Blessing he wanted to obtain a loan of N30,000,000.00 and promised to give her N5,000,000.00 to pump into her business – Udoka Jewelries And Accessories.
He, however, requested to use Blessing's current account, which has had some huge transactions in the past. Blessing agreed to this and gave him her Samsung phone on the ground that only the phone has the app that could be used to monitor the account.
According to Blessing, Ayobami obtained her savings account number domiciled with Access Bank and credited it N75,000.00. Afterward, he called Blessing that he mistakenly sent money into her account and requested that she returns it immediately. Since the line linked to the account was with Ayobami, Blessing told him the pin for transactions so he could forward the money back to his account.
Having obtained the pin, Ayobami started transferring every money that came into the account into his personal accounts. He also used the savings account to borrow about N75,000.00 and all the money summed up to the tune of N534,000, he admitted.

Below are some of the transactions of how he transferred money from Blessing's account into his personal account.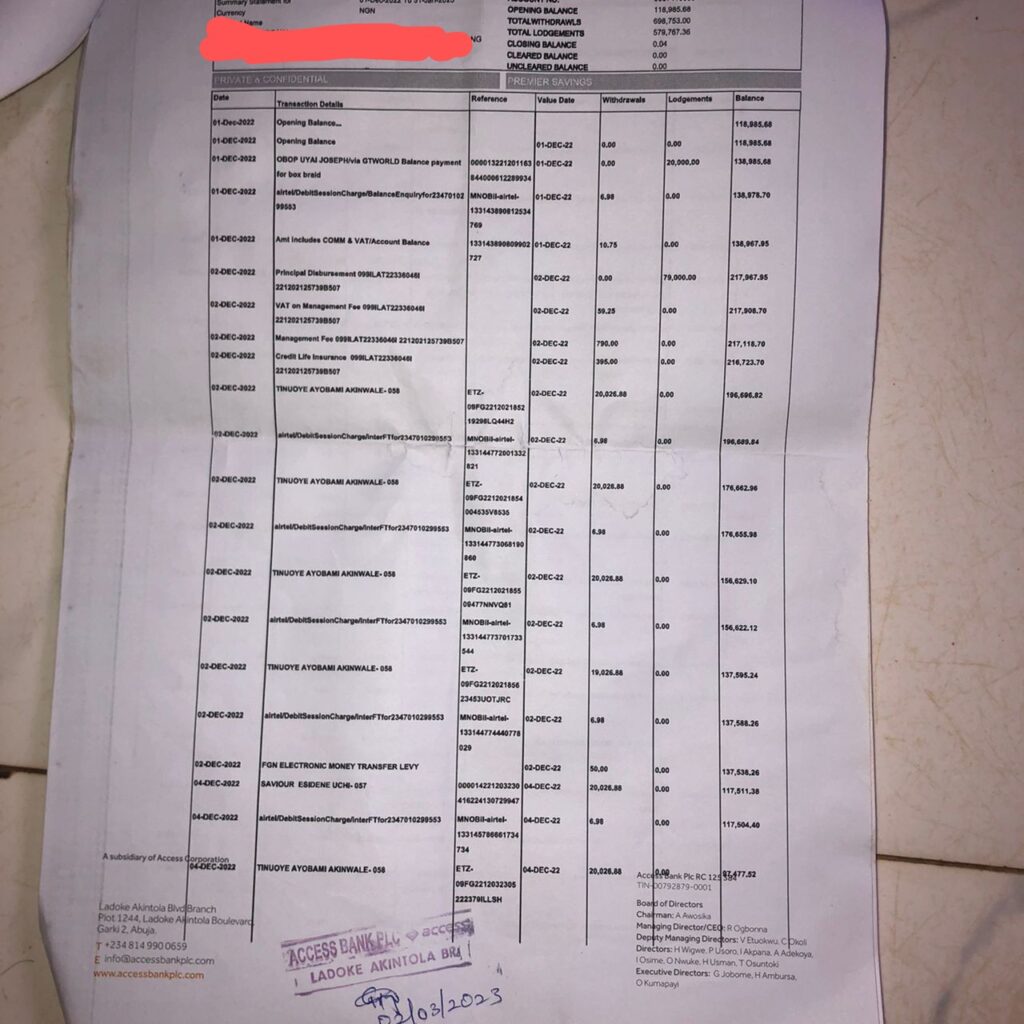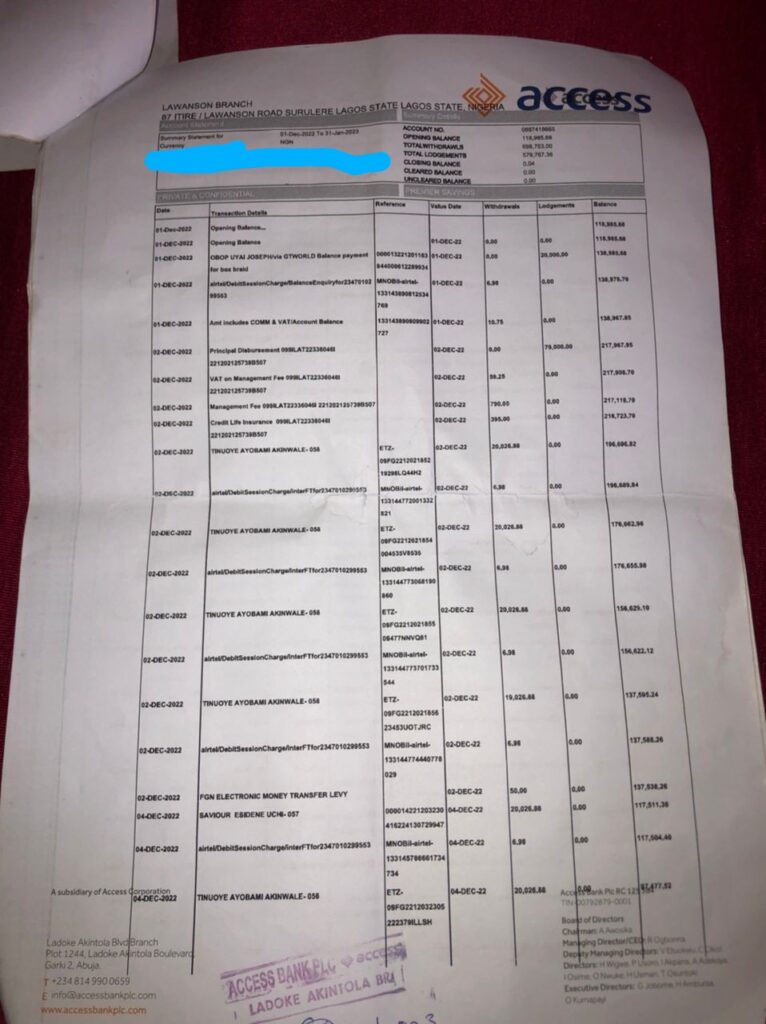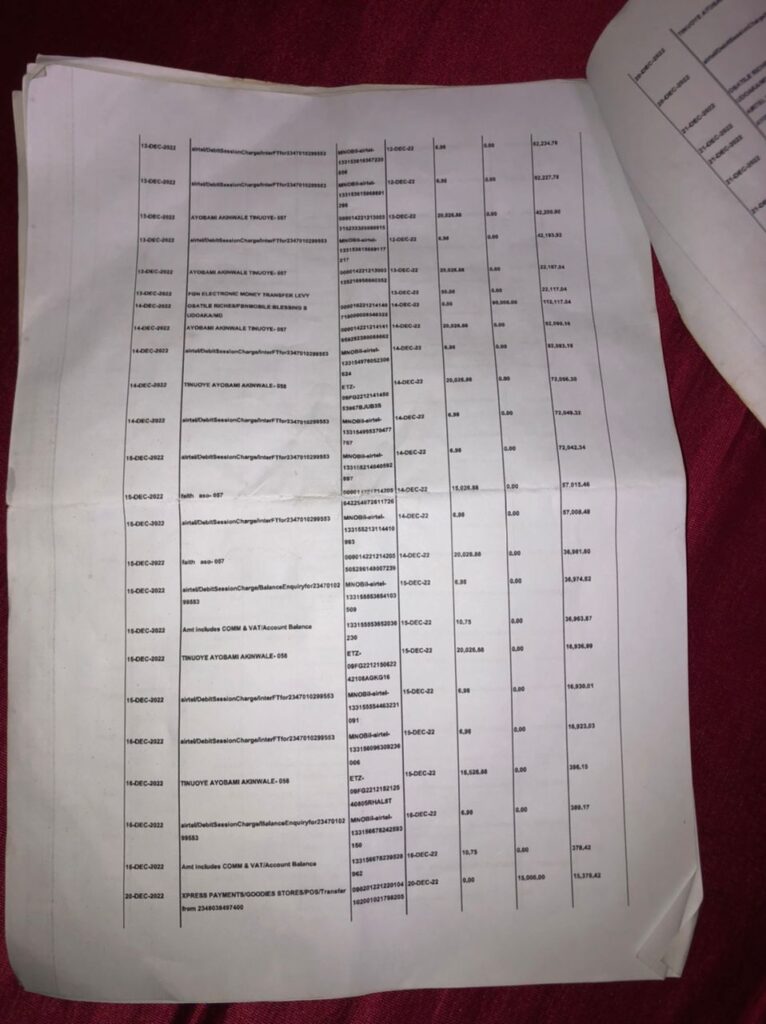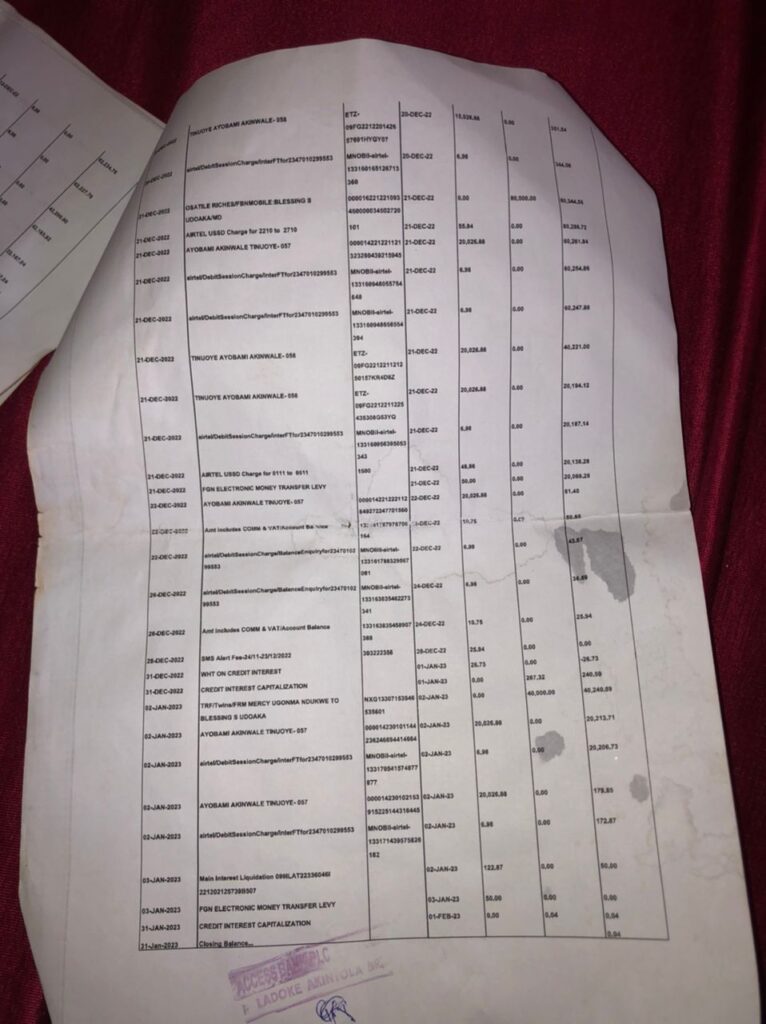 While these transactions were being done, Blessing was not in the know as the phone was still with Ayobami. Within that period, he told her that the loan had been approved but there were some challenges.
To make her believe his fraud, Ayobami forwarded a purported message from the supposed loan company showing that it had been approved.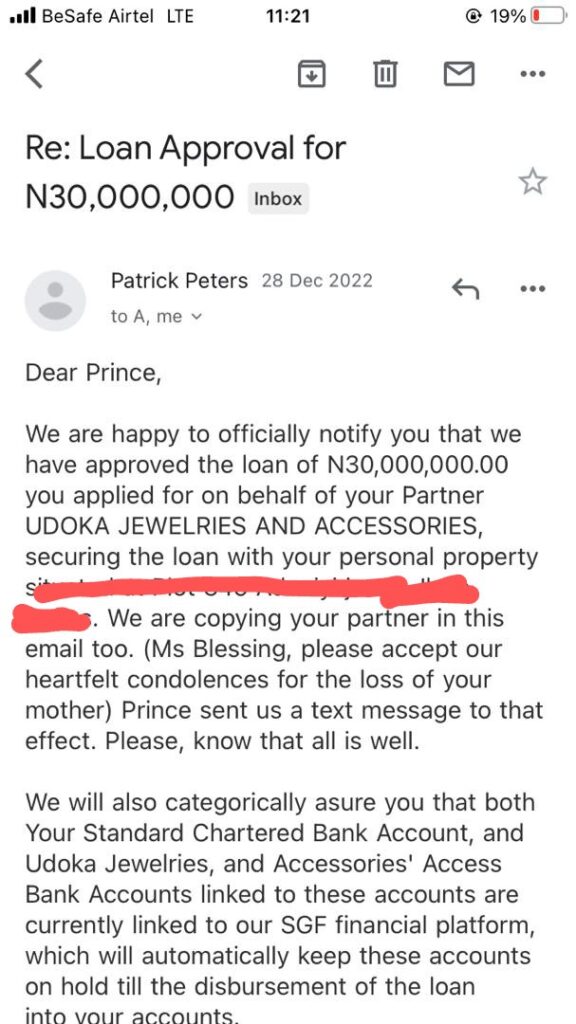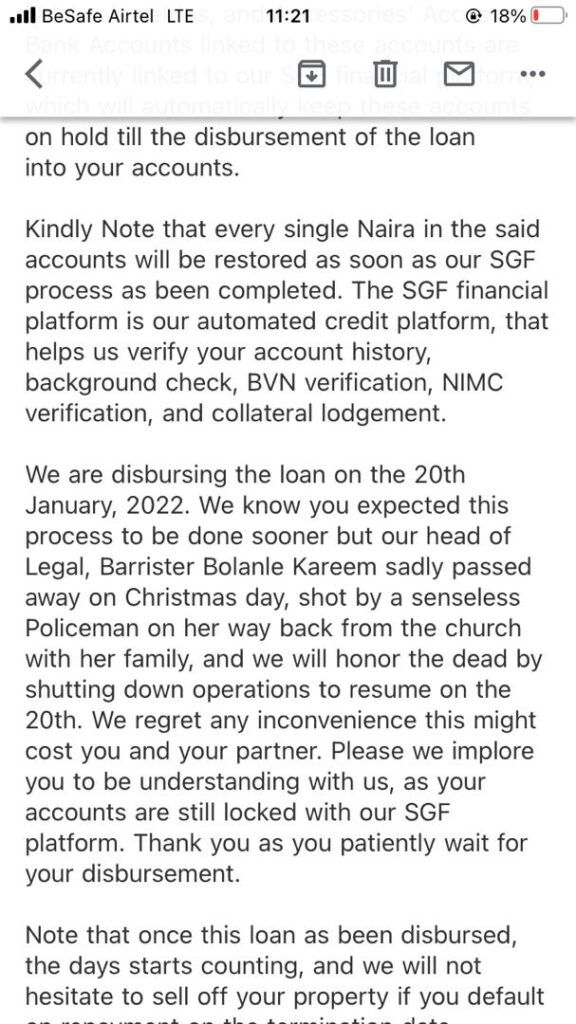 Alarmed by Ayobami's tactics, she went to print her bank statement where she discovered that her supposed 'God sent' had swindled her of her money. Immediately, she requested her phone and it was delivered to her through a dispatch rider.
Efforts to get her money back have proved abortive as Ayobami has refused to comply. Meanwhile, her business has been shut down as there was no money to continue running it since Ayobami swindled her of her capital.

Ayobami Akinwale Tinuoye's Testament
When contacted, Ayobami admitted that he transferred money from Blessing's account into his personal account. However, he said Blessing authorized him to do the transactions.
According to him, he paid the loan company over N3,000,000.00 as a condition to obtain the loan so it was necessary that Blessing refund him. He stated that Blessing was the one who requested the N30m loan and he was only trying to help her obtain the loan.
He stated that when he realized he had been scammed, he told Blessing to give him some time to refund her money. However, another 'war of word erupted between them'.
Ayobami alleged that he sacked Blessing because she messed up his office. He stated that he had in the past given her N450,000,00 for accommodation, N100,000.00 to solve some of her issues, N30,000.00 to obtain a form to gain admission into National Open University. When asked to provide evidence that he gave the above stated money to Blessing, Ayobami said his bank statement is his private document and cannot be shared with our correspondent.
Investigation revealed that Agur & Sage Capital Limited was incorporated in Abuja, Nigeria with Registration Number 1328764. It was registered on 15 Apr 2016 and its current status is unknown. The company's office address is Suite 002, Grand Image Apartment, Wuse Zone 6.